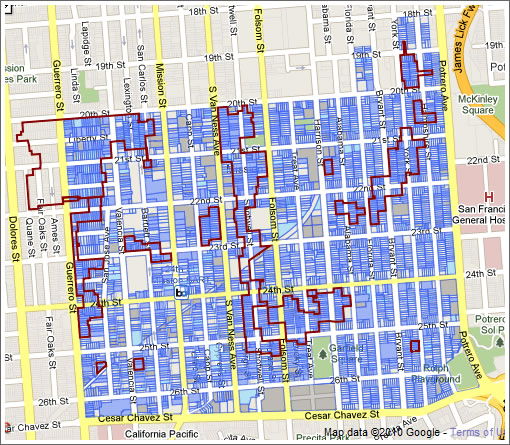 The Planning Department's recently completed South Mission Historic Resource Survey of 3,752 individual properties within the roughly 100 block square bounded by 20th Street, Cesar Chavez, Potrero Avenue and Guerrero is up for adoption by San Francisco's Historic Preservation Committee this week.
The Survey identities 988 potentially historic properties and 13 historic districts as outlined in red above and linked to in detail below:
∙ Shotwell Street Victoriana Historic District
∙ South Mission Avenues and Alleys Historic District
∙ East Mission Florida-to-Hampshire Streets Historic District
∙ Horner's Addition East Historic District
∙ Gottlieb Knopf Block Historic District
∙ Von Schroeder-Welsh Block Historic District
∙ 23rd Street Shops and Row-Houses Historic District
∙ Alabama Street Pioneers Historic District
∙ Hampshire Street False-Fronts Historic District
∙ Olsen's Queen Anne Cottages Historic District
∙ Juri Street Historic District
∙ O'Donnell-Fowler Homes Historic District
∙ Orange Alley Stables and Lofts Historic District
The South Mission Historic Resources Survey was conducted in order to provide information on the location and distribution of historic resources within the Eastern Neighborhoods Mission Area Plan for the purposes of long-range policy planning.
The survey also provides information for use in permit processing, environmental review, and making recommendations for official nominations to historic registers.