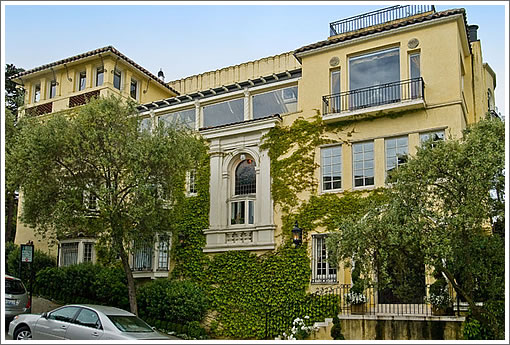 Unlisted but on the market and asking $18,700,000 since the beginning of the year, 2323 Hyde Street has just hit the MLS with a new price of $15,000,000 and "1 day" on the market.
Built in 1899, at one time divided into apartments but then reconstructed and renovated from 2001 to 2002, the Willis Polk designed home on Hyde was commissioned by the widow of Robert Louis Stevenson in 1893. In 2003 the home was purchased by the Sperlings when listed for $15,000,000 as well.
Also owned by the Sperlings, the asking price for 2845 Broadway has recently been reduced from $65,000,000 to $47,000,000. As we wrote about 2845 Broadway when the property was first listed in 2006:
Apparently the original two structures at 2845 Broadway sold for $32 million in November 2002, cost of construction to date is estimated to be $18 million, and the "Buzz among brokers" is that it will cost another $8-16 million to finish the property.
The asking price for the Sperlings' home at 3450 Washington remains $19,500,000.
∙ Listing: 2323 Hyde (6/6.5) – $15,000,000 [warwickproperties.com]
∙ 2845 Broadway Is Withdrawn In 2010 After 1400 DOM At $65,000,000 [SocketSite]
∙ The $65,000,000 House [SocketSite]
∙ 3450 Washington: Decorator Showcase 2010 Opens Up [SocketSite]