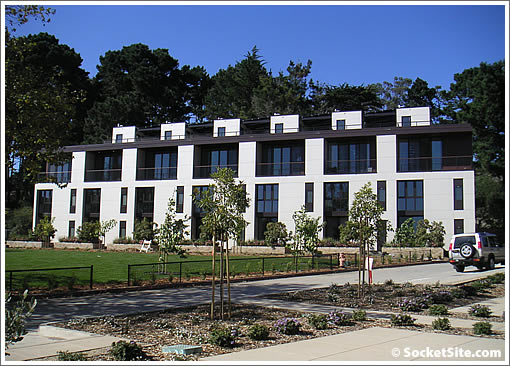 In conjunction with Forest City's Presidio Landmark redevelopment, the seven three-bedroom, three-bath, and three-story new construction Belles Townhomes are about to hit the rental market.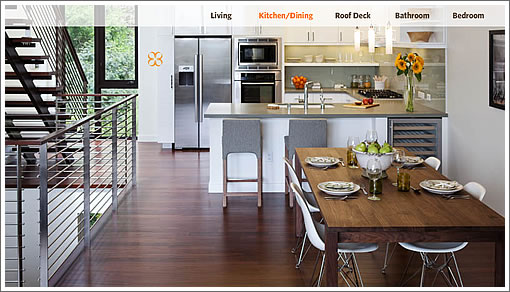 Specific rents have yet to be revealed, but "local executive Alexa Arena said they will be comparable to what you might pay in Nob Hill or Russian Hill for a three-bedroom home with private decks, views, and parking."
Each unit is connected to a solar panel array to reduce electric bills and its carbon footprint that will cut home energy greenhouse gas impacts by 36 percent. In addition, the Belles homes are equipped with a "energy saving dashboard" that keeps track of electricity, water, and gas usage in real time over the internet or on a LCD screen.
A representative floor plan and a few more interior shots are available online.
UPDATE: In response to a plugged-in reader's inquiry, the leasing office is targeting $7,500 to $9,000 per month for the townhomes.
UPDATE (9/24): The Green Grand Opening Event this Saturday is for the re-opening of the Presidio's Public Health Service District in general, the Belles Townhomes won't yet be open to the general public and likely won't be for another few weeks.
∙ Presidio Landmark Building 1801 Recovering Nicely From Wingectomy [SocketSite]
∙ The Presidio Landmark: The Belles Townhomes [thepresidiolandmark.com]
∙ Forest City's Belles of the Presidio [San Francisco Business Times]