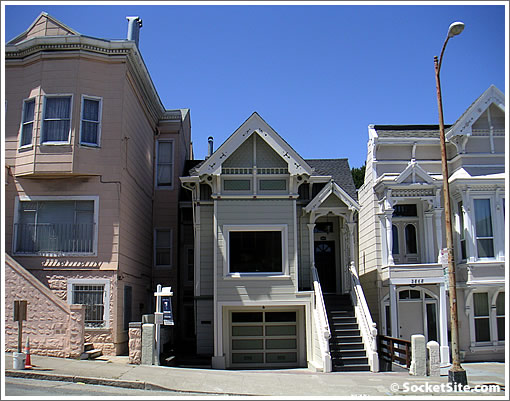 As we wrote this past November:
Listed as a short sale for $595,000, the Lower Pacific Heights single-family (but zoned RH2) home at 2874 Bush Street sold for $675,000 in June of 2003.
According to a plugged-in source a short sale has already been approved (although at exactly what price was unknown), and while most definitely a fixer (if not a gut and build), it could possibly be perfectly habitable with a bit of elbow grease.
Also noted, the walls seemed to be decorated with listings and other information about numerous other properties. And the grant deed from the buyer in 2003 to another party in September 2008 and then back to the 2003 buyer in January 2009 remains unexplained.
As we reported in December:
[W]hile the short sale of 2874 Bush Street closed escrow on 12/22/09 with what appears to be a "confidential" sale price on the MLS (and will be considered to be $595,000 with respect to industry reports), a bit of digging and calculating reveals the actual sale price to be $550,000 (18.5% under its 2003 contract price).
And of course as a tipster added:
Looks like moving day at 2874 Bush. Seeing the washer and dryer on the truck didn't surprise me…but seeing the furnace sure did!
Having been rebuilt as a 1,941 square foot two-bedroom with three baths over the past six months, 2874 Bush Street has just returned to the market asking $1,049,000.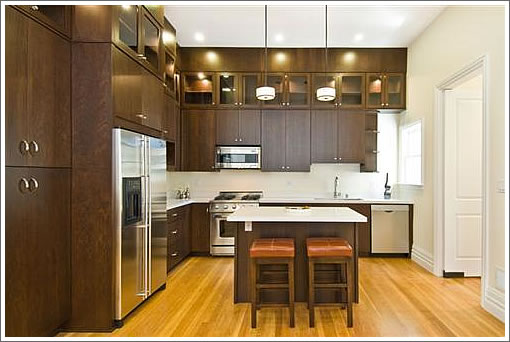 ∙ Listing: 2874 Bush Street (2/3) 1,941 sqft – $1,049,000 [MLS]
∙ The Beginning Or End Of This (Or The) San Francisco Short Sale Story? [SocketSite]
∙ A Quick Short(er) Sale And Key Word: Pre-Approved [SocketSite]
∙ Personal Effects, Check. Washer And Dryer, Check. Furnace… [SocketSite]