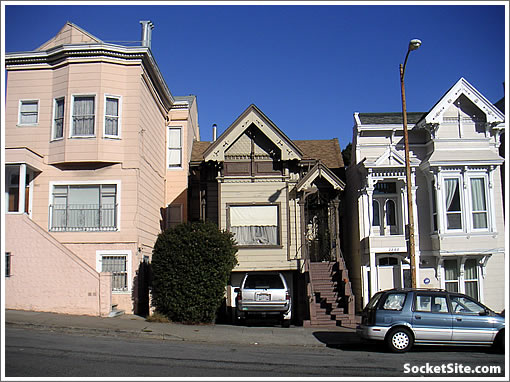 As we wrote last month:
Listed as a short sale for $595,000, the Lower Pacific Heights single-family (but zoned RH2) home at 2874 Bush Street sold for $675,000 in June of 2003.
According to a plugged-in source a short sale has already been approved (although at exactly what price was unknown), and while most definitely a fixer (if not a gut and build), it could possibly be perfectly habitable with a bit of elbow grease.
And while the short sale of 2874 Bush Street closed escrow on 12/22/09 with what appears to be a "confidential" sale price on the MLS (and will be considered to be $595,000 with respect to industry reports), a bit of digging and calculating reveals the actual sale price to be $550,000 (18.5% under its 2003 contract price).
Key word in the listing: pre-approved. No word on any credits for the furnace.
∙ The Beginning Or End Of This (Or The) San Francisco Short Sale Story? [SocketSite]
∙ Personal Effects, Check. Washer And Dryer, Check. Furnace… [SocketSite]