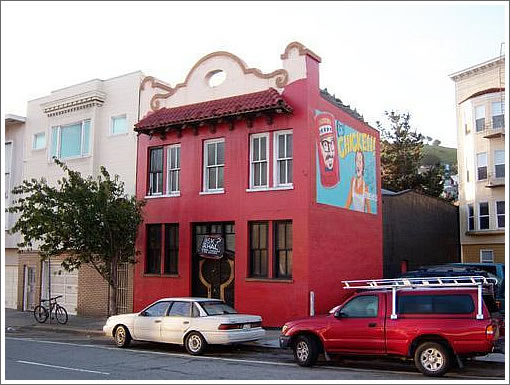 While Chicken John Rinaldi's Chez Poulet has been on the market for two months at $899,000, on Monday Laughing Squid added a bit of color with a quote from John himself:
I'm caught in the mortgage crisis by association. I took a 5 year arm mortgage with a balloon payment thinking I could re-finance. There are no loans today for Showman with non-conforming warehouses. So it goes on the block. Hell, I'll even finance it…
And as a plugged-in tipster added last week:
Although it's his home, he's made it into a funky hangout space for the local arts community… it will be sad to see it fall into the hands of more sensible property owners, but such is the way of the world.
Or perhaps not. A follow up from from Chicken John yesterday:
I talked to a loan guy today that may be able to do something. I only owe like $220,000. It's not *that* much. It's all phony money to me. I've got like $60 in my pocket. It's comedy, really…
∙ Listing: 3359 Cesar Chavez (1/1) 2,800 sqft – $899,000 [MLS]