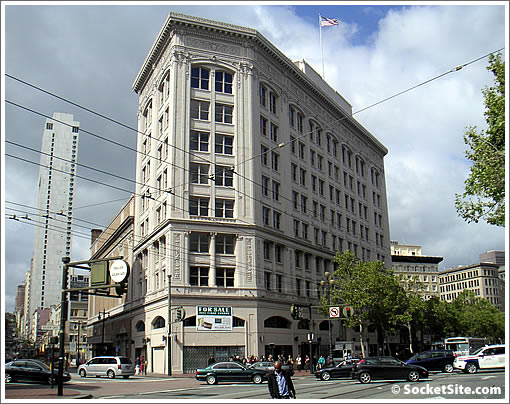 Don't panic, The Warfield itself isn't going condo (or away). But seven of the eight adjacent floors of the Gustav Albert Lansburgh designed Warfield Theater Building (988 Market) are about to return to the market as commercial condos with a twist.
Zoned C3G with an allowance for Accessory Use Housing, up to a quarter of each floor of the building could be converted to full-time residential use. And while floors 2-5 which share a wall with The Warfield auditorium (i.e., they're likely to remain 100 percent commercial), the top three floors will be marketed with the residential component in mind.
In fact, the roughly 5,000 square foot penthouse floor has already been built-out as such, with a quarter of the floor turned into a one-bedroom, one-bath with a loft-like living area and wall of windows. The other three-quarters of the penthouse floor has been remodeled for commercial use (albeit with a wet bar and full bath). The penthouse also boasts a private 5,000 square foot roof deck.
And speaking of that penthouse floor, we've been told that at one time it housed the offices of Al Capone. No word on whether or not Geraldo already knows.
∙ Coming Soon (and not yet live): Warfield Condos [warfieldcondos.com]