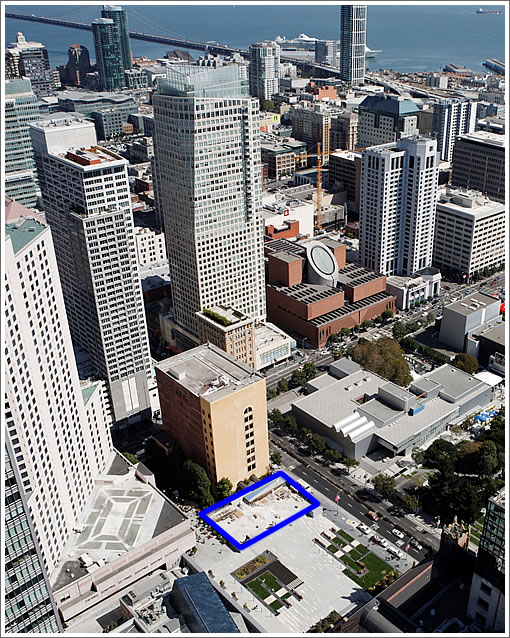 From the San Francisco Business Times:
Millennium Partners is dusting off plans for a highrise condo tower at 706 Mission St. in San Francisco after two years in which the financial crisis brought planning to a virtual halt.
The project calls for Millennium Partners…to build a condo tower on a site made up of a 9,000-square-foot parcel the Redevelopment Agency owns and a 16,000-square-foot parcel the developers bought in 2006. The tower would house a 35,000- to 40,000-square-foot Mexican Museum, which the developers will build at no cost to the museum. Both the museum and condo tower would be connected to the historic Mercantile Building at 706 Mission St., a 1903 structure that the developers would restore. The height of the residential tower, which is being designed by Mexican architect Enrique Norton's TEN Arquitectos and San Francisco-based Glenn Rescalvo of Handel Architects, would likely be between 450 and 550 feet.
The environmental impact report (EIR) is in the works along with entitlements, and construction could commence "late 2011 or early 2012."
∙ Muy Bien? Proposal To Restore And Develop Adjacent To 706 Mission [SocketSite]
∙ Millennium Partners revives S.F. highrise, museum [Business Times]