Under cloudy skies, but with sunny dispositions, current residents of Trinity Plaza have started to make their move across the way to Trinity Place (1188 Mission). As we wrote eight months ago about Phase I of the 1,900 unit Trinity Place development:
If all goes as planned, the 440-unit building will open in two phases with residents of the lower twelve floors occupying their new apartments by the middle of January 2010 and residents of the top twelve floors by the end of March.

There's been good buzz about the design and finishes of the units to be (not to mention the marble and granite lobby). And in case you're wondering, residents of record as of early January at the current 360-unit Trinity Plaza will get first choice of units and maintain their current rents (and rent control).
In addition to rent-controlled tenants making the move, around 70 market-rate units will be available for rent with corner one-bedrooms ready for immediate occupancy starting at $1,773 per month and upper floor studios following in February or March.
Phase II of the development was originally slated to be 545 units and 21,000 square feet of retail along Market Street, but instead the next phase of development will be 440 units at 1190 Mission, directly west of 1188.
Given the tenuous economy and uncertain housing market, Sangiacomo said it makes more sense to construct a more modest building first. In addition to more units, the Market Street portion of the project requires a massive excavation for a 1,450-car parking garage. In contrast, the Mission Street buildings do not have any underground parking.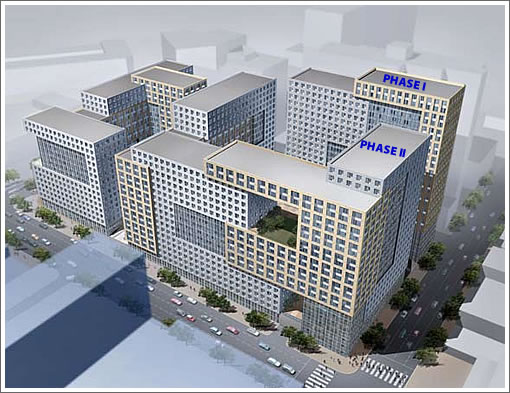 Kudos to Sangiacomo and his team.