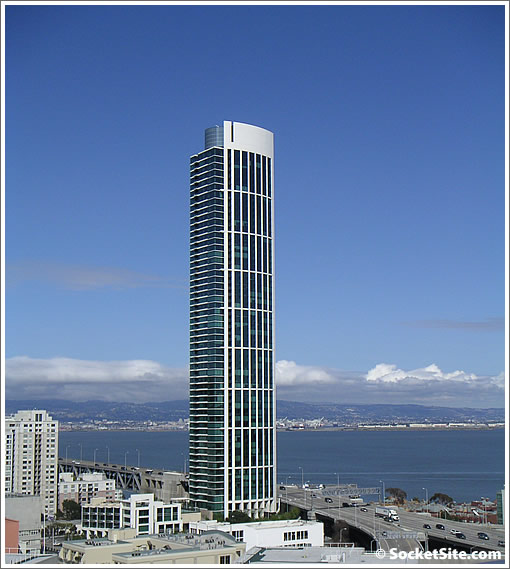 On the heels of yesterday's height of the fire sale flames post with respect to The Infinity, we turn our attention to One Rincon Hill. So far the lowest priced two-bedroom sale we have identified on a price per square foot basis seems to be 425 1st Street #1102.
The 1,309 square foot two-bedroom sold for a reported $695,000 ($531 per square) in May. We'd be remiss not to note the "02" stack irony.
Of the 396 units of One Rincon Hill, we believe they remain at just under 80 percent sold.
UPDATE: We've pulled our reference to #4902, it's reported sales history is just a bit too odd. With respect to #1102, however, a plugged-in reader adds:
1102 was sold on opening night to an "insider". Contract price was $925,000 and he was all excited because it was such a "steal". (I was at the party.) By closing time he had moved out of town and so he bailed on the contract. I believe he lost his deposit.
If accurate, call it a discount of 24.8 percent to move it in May.
∙ Recounting The Height Of The Infinity "Fire Sale" Flames [SocketSite]
∙ A Return To Reality For A One Rincon Hill "02" Stack Resale (#2202) [SocketSite]