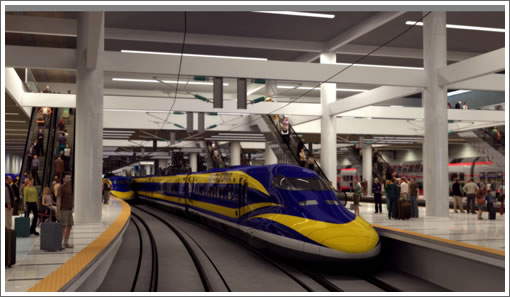 A plugged-in tipster reports with respect to High Speed Rail and the Transbay Terminal:
Thought you should know that both Nancy Pelosi and [Gov. Arnold Schwarzenegger] both sent strongly worded emails to the Secretary of Transportation this week endorsing the Transbay Terminal as the San Francisco terminus for High Speed Rail.
Pelosi's letter was pretty detailed technically on how the trainbox would look (to combat the misconception that has been floating around that the terminal cannot accommodate all the HSR traffic; which is massively over-optimistic, but that is another argument all together) and why the 'Beale street option' is not realistic at all in terms of cost and the fact it would undermine all the work Caltrans has just done on the Bay Bridge approach.
∙ More Evidence Of A High Speed Snub For The Transbay Transit Center [SocketSite]
∙ While San Francisco Might Get High-Speed Rail, Will The Transbay? [SocketSite]
∙ Unplanned Obsolescence For Transbay High-Speed Station Design? [SocketSite]