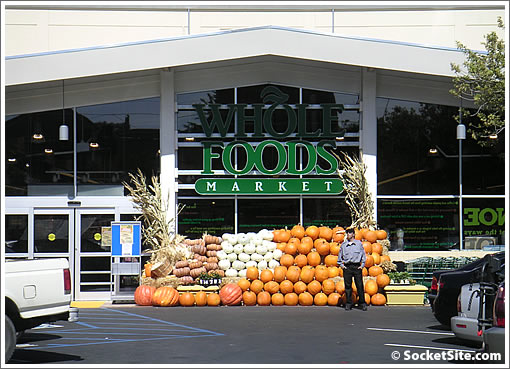 Seven months ago Whole Foods Market was given the green light to convert (but not raze and rebuild) the shuttered Bell Market on 24th Street in Noe. Wednesday at 10 am Whole Foods Market Noe Valley opens its doors (with a 9:45 am bread-breaking before).
At the same time, Aveda, GNC and Streetlight Records (neighboring, neighboring, and across the street) have since closed while Real Foods remains dormant.
UPDATE: The inside scoop from a plugged-in reader:
WFM management has specifically canvassed the neighborhood and have reduced their offerings of items that have excellent local store representation. Floral, Pet Dept, and Cheese in particular have smaller offerings than a regular WFM store because the neighborhood is already well served.
Their front-end team has been collecting cards from *all* local businesses. When people complain "Why don't you carry X, Y, Z?" they are to direct the customer to the local business 4 doors down that does carry it rather than start carrying it themselves.
The hope is that the small parking lot will serve as a natural rate limiter on the number of shoppers. There are 4 full service checkout lanes and 4 express and that's it.
PS. All the breads are sourced from the local Boulange chain and all their prepared foods are made by local caterers and food companies. This is the first WFM store to not make anything on site, at all. Boulange is delivering fresh bread 2x a day. There aren't even any finishing ovens in the store!
Cheers.
UPDATE (9/30): As another plugged-in reader notes, La Boulange is planning to open down the block this fall where Noe Valley Pizza recently closed their doors.
∙ Whole Foods Green-Lighted In Noe (And As Proposed On Market) [SocketSite]
∙ Noe Bagel's Days Might Be Numbered. Now About Next Door… [SocketSite]