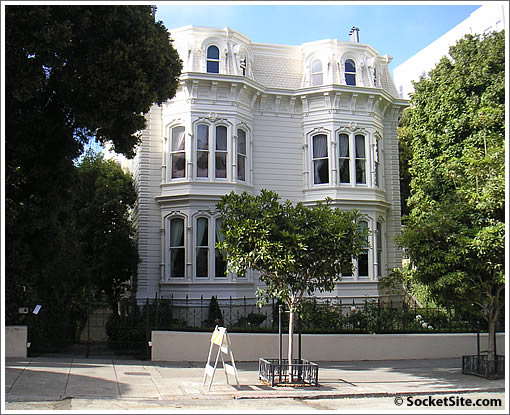 As a plugged-in tipster points out, the Landmark Burr Mansion (1772 Vallejo) is coming soon. A bit of history on the house and Burr:
The Italianate mansion on Vallejo Street, with slanted bays and a Mansard roof, was designed by Edmund M. Wharff and built in 1875 as [Captain Ephraim Burr's] wedding gift to his son, Edmund. During the 1906 earthquake, the house slipped off its foundations and ninety-three jacks were required to lift it back. As one of the best preserved residences of the period, it is a fine example of the transition of style in the later 1870's
In 1856, Captain Burr won the San Francisco mayoral election; legend has it that it took a thousand armed men and a police wagon at each polling station to purify the election. Burr had a reputation for honesty–indeed, for penny-pinching–that appealed to voters. He established the San Francisco Accumulating Fund, commonly known as the Clay Street Bank, California's first savings and loan company. As mayor, Burr was foresighted enough to back Andrew Hallidie's invention of the cable car with $30,000 in 1873.
Last sold for in 1995 for $1,300,000 with an interior, but non-structural, demolition permit approved soon thereafter. No word on where it will be priced or what has been done inside.
∙ San Francisco Landmark #31: Burr Mansion (1772 Vallejo) [noehill.com]
∙ Burr House History (1772 Vallejo) [verlang.com]