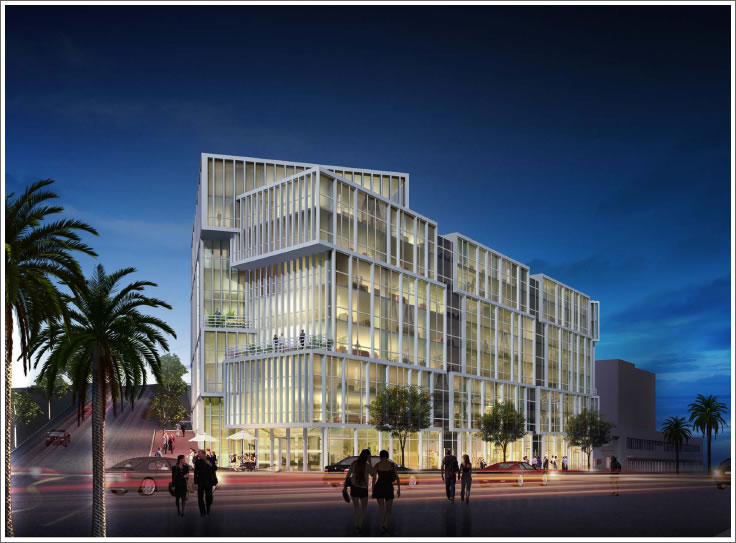 A plugged-in tipster provides the full scoop from last night's Planning Commission meeting with respect to the proposed development of 1960-1998 Market Street. Keep in mind that a "Negative" Declaration is actually a positive thing when it comes to development.
The appeal of the Negative Declaration was denied, the project itself is continued to May 14th, and the parking ratio variance from the Market Octavia ratio of 0.5 will probably be denied, per Planning staff recommendation. The Commission did ask for the following:
(1) an increase in the minimum distance to the building behind from the proposed 12'6, (2) a matching light-well to the existing light-well on an adjacent building (I believe it is indeed legal), (3) less height on Buchanan, and (4) for the architect to solicit additional input from the Duboce Triangle Neighbors on the design of the building.
The Duboce Triangle Neighbors claim they appreciate modern architecture and they count several design professionals amongst them. The reveals shown in the latest renderings [SocketSite] posted were their idea.
The commissioners recognized the site is too tight for setbacks, so any redesign will probably be limited to refinement of the current design. And not a single person present asked for bay windows, stucco, Victorian or Spanish design. Indeed, everyone expressed support for the modern design.
Cheers!
∙ Now THAT's The (An) Arquitectonica Design For Market At Buchanan [SocketSite]
∙ Movement On Up To 115 Housing Units At Market And Buchanan? [SocketSite]
∙ The Designs And Details For 1960-1998 Market (At Buchanan) [SocketSite]