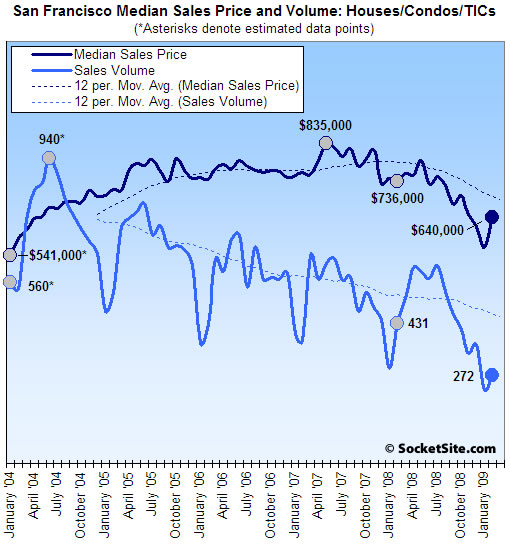 According to DataQuick, recorded home sales volume in San Francisco fell 36.9% on a year-over-year basis last month (272 recorded sales in February '09 versus 431 sales in February '08) but rose 18.8% compared to the month prior (think seasonality).
San Francisco once again experienced the sharpest year-over-year decline in sales volume of any Bay Area county last month with Marin the only other county recording a decline (down 18.4% YOY). San Francisco's median sales price in February was $640,000, down 13.0% compared to February '08 ($736,000) but up 13.9% compared to the month prior.
For the greater Bay Area, recorded sales volume in February was up 26.1% on a year-over-year basis but fell a nominal 0.4% from the month prior (5,032 recorded sales in February '09 versus 3,989 in February '08 and 5,050 in January '09), while the recorded median sales price fell 46.2% on a year-over-year basis, down 1.7% compared to the month prior.
Once again, think foreclosures and mix.
Last month 52 percent of all homes that resold in the Bay Area had been foreclosed on at some point in the prior 12 months, up from a revised 51.9 percent in January and 22.3 percent a year ago.
At the county level, foreclosure resales last month ranged from 12.1 percent of resales in San Francisco to 69.5 percent in Solano County. In the other seven counties, foreclosure resales were as follows: Alameda, 46.2 percent; Contra Costa, 65.1 percent; Marin, 18.9 percent; Napa, 63.1 percent; Santa Clara, 42.9 percent; San Mateo, 31.3 percent; and Sonoma, 57.1 percent.
And financing:
The use of government-insured, FHA loans – a common choice among first-time buyers – represented a record 24.9 percent of all Bay Area purchase loans last month.
Conversely, use of so-called jumbo loans to finance high-end property remained at abnormally low levels. Before the credit crunch hit in August 2007, jumbo loans, then defined as over $417,000, represented 62 percent of Bay Area purchase loans, compared with just 17.5 percent last month.
At the extremes, Solano recorded a 100.4% year-over-year increase in sales volume (a gain of 279 transactions) on a 44.3% decrease in median sales price, while Contra Costa recorded a 70.4% increase in sales volume (a gain of 530 transactions) on a 51.9% drop in median sales price.
As always, keep in mind that DataQuick reports recorded sales (versus listed sales) which not only includes activity in new developments, but contracts that were signed ("sold") many months or even years prior and are just now closing escrow (or being recorded).
Editor's Note: We've adjusted the y-axis for Median Sales Price on the graph above which now crosses the x-axis at zero (as sales volume always has in months past).
∙ Bay Area home sales climb above last year as median falls below $300K [DQnews]
∙ San Francisco Recorded Sales Activity In January: Down 21.8% YOY [SocketSite]
∙ SocketSite Sees Seasonality (Versus Signs Of A Rebound) [SocketSite]