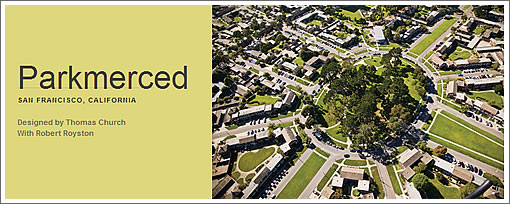 As a plugged-in tipster notes, San Francisco's Parkmerced has been named to the Cultural Landscape Foundation's 2008 "Marvels of Modernism" list. From the Foundation:
Parkmerced was designed as "a city within a city" by architect Leonard Schultze and Associates with planning and landscape architecture by Thomas Church with Robert Royston.

Today, it is one of this country's four remaining examples of large-scale, post-World War II residential developments. Unfortunately, there are numerous threats to the design, including plans by the current owners to subdivide portions of the site and make changes to the property's pioneering landscape design.
From our tipster: "preservation = green + sustainable." We'll let you write your own equation. Bonus points for proof of work.