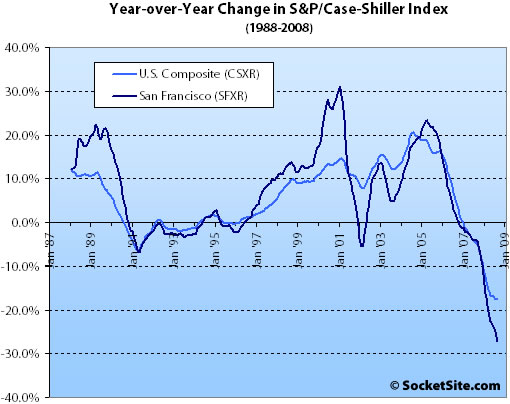 According to the August 2008 S&P/Case-Shiller Home Price Index (pdf), single-family home prices in the San Francisco MSA fell 3.5% from July '08 to August '08 and are down 27.3% year-over-year.
For the broader 10-City composite (CSXR), year-over-year price growth is down 17.7% (having fallen 1.1% from July).
Both the 10-City and 20-City Composites have been in year-over-year decline for 20 consecutive months. Of the 20 regions, 13 of them had their annual returns worsen from last month's report. As seen throughout 2008, the Sun Belt markets are being hit the most. Phoenix and Las Vegas are both reporting annual declines in excess of 30%, and Miami, San Francisco, Los Angeles and San Diego are all in excess of 25%.
Prices fell across all three price tiers in the San Francisco MSA with the rates of decline accelerating across the board.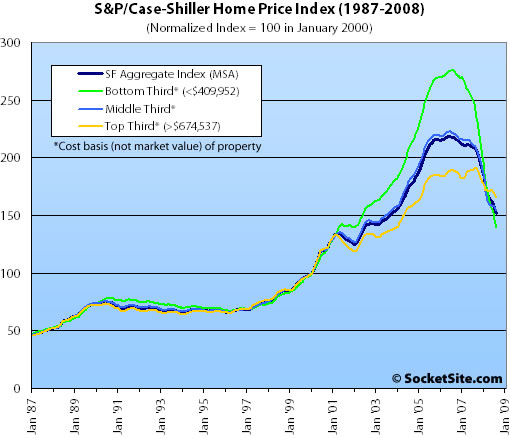 The bottom third (under $409,952 at the time of acquisition) fell 4.8% from July to August (down 42.7% YOY); the middle third fell 2.2% from July to August (down 26.3% YOY); and the top third (over $674,537 at the time of acquisition) fell 2.1% from July to August (down 13.6% YOY).
And according to the Index, home values for the bottom third of the market in the San Francisco MSA have retreated to December 2001 levels, the middle third has returned to October 2003 levels, and the top third has fallen below February 2005 levels.
The standard SocketSite S&P/Case-Shiller footnote: The HPI only tracks single-family homes (not condominiums which represent half the transactions in San Francisco), is imperfect in factoring out changes in property values due to improvements versus actual market appreciation (although they try their best), and includes San Francisco, San Mateo, Marin, Contra Costa, and Alameda in the "San Francisco" index (i.e., the greater MSA).
∙ National Trend of Home Price Declines Continues into the Second Half of 2008 [S&P]
∙ July S&P/Case-Shiller: Pace Of San Francisco MSA Decline Continues [SocketSite]