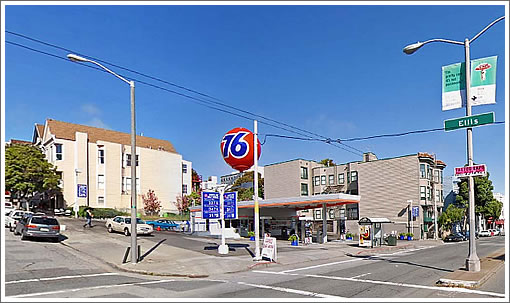 A plugged-in tipster reports that the development of 1301 Divisadero (corner of Ellis) "seems to have started construction." From our tipster:
On Sept 11, 2008 they received permits (#200805051285) to demolish the [Union 76 station]. No other permits have been issued for this site though. I'm going to assume that 76 just did a cleanup right now and they are waiting for clean Phase 1 until they start building.
It's zoned NC2 and is sitting on a 12,891sf lot. If they haven't petitioned for a height and density ordinance change, we're looking at a 40ft building with up to 16 units.
PS: About 12 Chevron Shell stations are for sale in SF. 19th and Lincoln, Lombard and Laguna, California and Pierce and two on 3rd st. So there should be stuff popping up there soon, too.
As far as we know a variance was indeed in the works for 1301 Divisadero, 33 condominiums are on the way, and designs have been distributed (although we haven't seen them). Readers?