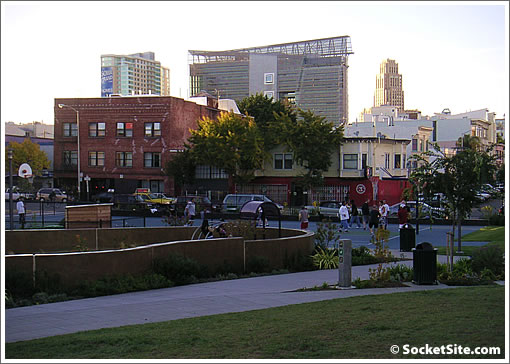 It's neighborhood perception versus (at least one reader's) reality:
As someone who has lived within two blocks of [the SoMa Grand] for the last 15 years, I think it deserves mention that this neighborhood has already changed a lot. When I moved into an apartment on Tehama between 5th and 6th back in 1992, there were smash-and-grabs every day, often multiple times a day. I have seen people being zipped up in body bags, shootings, and trannies giving tricks right on the street. But things started changing with the dot-com boom. I believed in the trend enough to purchase a loft on Minna between 6th and 7th in 1992, and felt (barely) safe enough to start a family.
I would never had guessed 15 years ago that there would be a nearby park (Victoria M.) I can actually take kids to. Sure, I still feel out of place when we walk up Sixth to Tu Lan's, but nobody bothers us. And I hate that people use the entry way to our building as their restroom, but even my friends in Pac Heights have to deal with that every once in a while.
Why do I stay? I love being able to walk to work, and to be so close to Yerba Buena Gardens, MOMA, Metreon, Westfield, Union Square, the shops and cafes on Folsom Street, and the Sunday Farmers Market–just to name a few.
So if things get better, great. But as long as they don't get worse I'm cool.
And a question for those in the know, how long has Stan's stay been extended?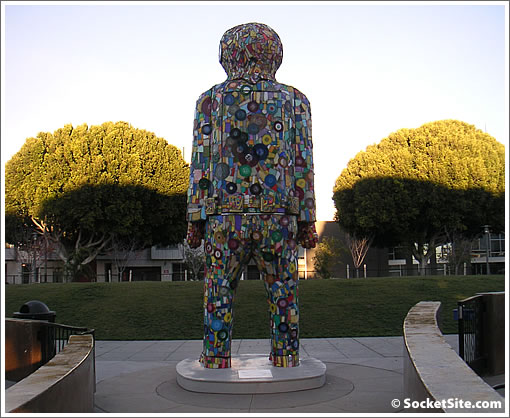 UPDATE: Thanks to Bob, we have the update on Stan's stay: "Stan" was extended to April 15, 2008 by the Recreation and Parks Commission (this was the rare case where everyone from the neighborhood who showed up to testify seemed to love an art installation)."
∙ We Tried To Warn Tell You, The Neighborhood Is A Changing [SocketSite]
∙ Grand-opening of Victoria Manalo Draves Park [BeyondChron]
∙ Stan in SOMA park [Black Rock Arts Foundation]