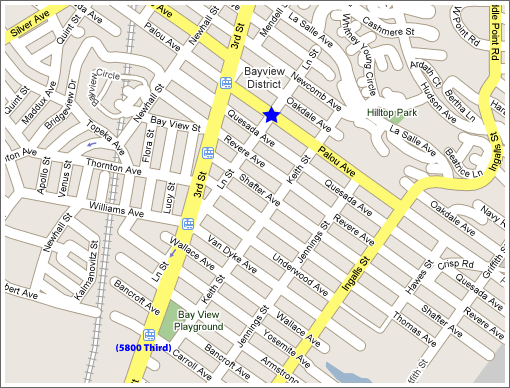 On Monday it was one reader's reality versus perception regarding life around Sixth Street in mid-SoMa/Market/town. Today we highlight another reader's reality, and this time it's living off of Third Street in Bayview:
[L]ike many areas of San Francisco you have to be cautious and use common sense. I live on Palou Ave at Lane about a block from 3rd. I have lived there since July. Got a pretty decent deal on a 1200 square foot, 1925 2bedroom house in good shape with views, decent yard, original nice details. I did talk with a few neighbors before getting in. Many long-time owners, also new folks to the neighborhood. Young Latino families, Asian, and several 30 something white gay couples.

I feel reasonably safe, but I have heard gunshots. Only once. I used to live in the Mission and heard them more often. This development [5800 Third Street] and grocery will definitely help establish the neighborhood as a nice and "affordable" for many SF citizens. The grocery is especially needed.

The condo's do have to be pretty nice and large to sell from the mid 500's as I bought my house for $550,000 and there are currently many houses in the $500K to $600K range. I think most people will want a house as opposed to a condo in a 300+ unit condo complex.