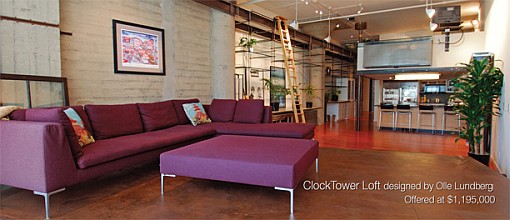 We're huge fans of Architect Olle Lundberg's design aesthetic (and happen to covet the Norwegian car ferry he inhabits near China Beach). And seeing as how we're not expecting an invitation to tour the inside of Ellison's San Francisco pad (a Lundberg designed home), we're jumping on the opportunity to explore a ClockTower loft that Lundberg designed along with interior decorator Linda Lee.
461 2nd Street #557 took four years to complete and features "2 tons of River Rock, $400,000 worth of fabricated glass and steel, and reclaimed Navy Turret ship mirrors on opposing sides of the windows to capture the partial water views."
You had us at the Hobart (refrigerator).
UPDATE (12/1): Okay, we've been and we're fans (the storage space, built-ins, and level of detail/finish are fantastic). And yes, that sofa has got to go…