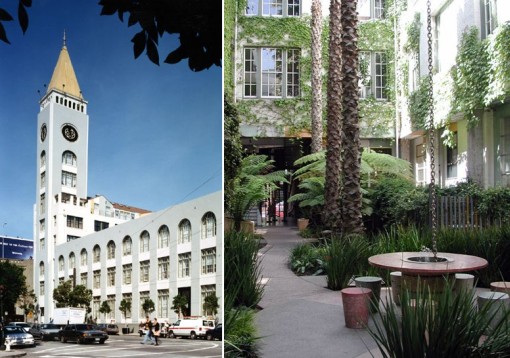 A recent debate about the impact of Bay Bridge traffic and noise on a number of Rincon Hill developments leads to a logical end beginning: soliciting input from those who have lived in a similarly situated development over the course of the past 14 years.
Developed by Rick Holliday, and designed by architect David Baker, the ClockTower at 461 Second Street is a true loft development of 127 live/work units (converted from warehouse space in 1992).
The ClockTower – actually three interconnected buildings – once housed the venerable Schmidt Lithograph Company, whose designers and printers produced classic California fruit-crate labels. The original three-story brick and timber plant that Max Schmidt built was expanded over the years to include a six-story concrete building and finally, to signal the company's success, the 170-foot-high steel-frame clock tower. Now Holliday has converted these three distinct structures – 230,000 square feet in all – into 127 open floor-plan spaces, offering tenants live/work units with views of the freeway and the Bay.

The three building spaces were ingeniously divided to create 44 distinct floor plans; each design was repeated as few times as possible. Baker likens this group of buildings to an old city "quarter" – an arrondissement – with its spatial variations. "Modern cities are too rational," he says, adding that "it's nice to lose your way once in a while." So, not coincidentally, there is a labyrinth of passageways connecting the different spaces. Newcomers have to use a map to get around.

And right below the tower clock, an exclusive Bavarian-style beer hall (once reserved for the Schmidts and their friends), which had fallen into shameful disrepair, was rebuilt as a million-dollar penthouse, its panoramic views oddly enhanced by the stream of cars on the freeway below.
Would any past, current, or prospective inhabitants of the ClockTower care to shed some light on the development in general, and the impact of the Bay Bridge in specific? And if you know someone who might be able to provide some insight, but isn't currently plugged-in (it happens), perhaps you'll be kind enough to pass this along.
We're going to spend the rest of the afternoon daydreaming about our own little Bavarian-style beer hall penthouse in the sky…