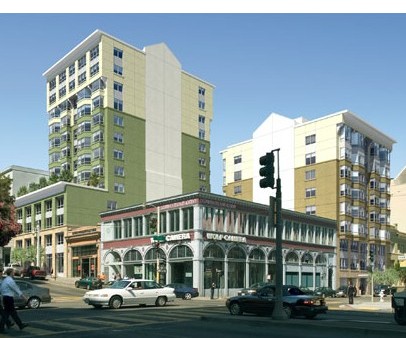 In 2002 Lakeview Ventures received approval to build an "
affordable housing project
" of 141 apartments at 724 Van Ness (actually two towers, a 14-story tower on Van Ness and a 7-story tower on Turk). Two years later, the project was sold to condo developer West Bay Builders. And today, construction of Symphony Towers is well underway, but in the form of
130 condominiums
(~16 BMR) which should be finished late 2006/early 2007.
It's a classic case of
urban infill
, and how despite the fact that "they're not making any more land," two one-story buildings (housing an auto shop, restaurant, and retail) can become 130 new homes (albeit not overnight). The "community" will be marketed by
Pacific Marketing Associates
.
∙
Recovery just around the corner — sort of
[bizjournals]
∙
Zillow Is A Lot Catchier
[SocketSite]
∙
Symphony Towers
[Pacific Marketing Associates]