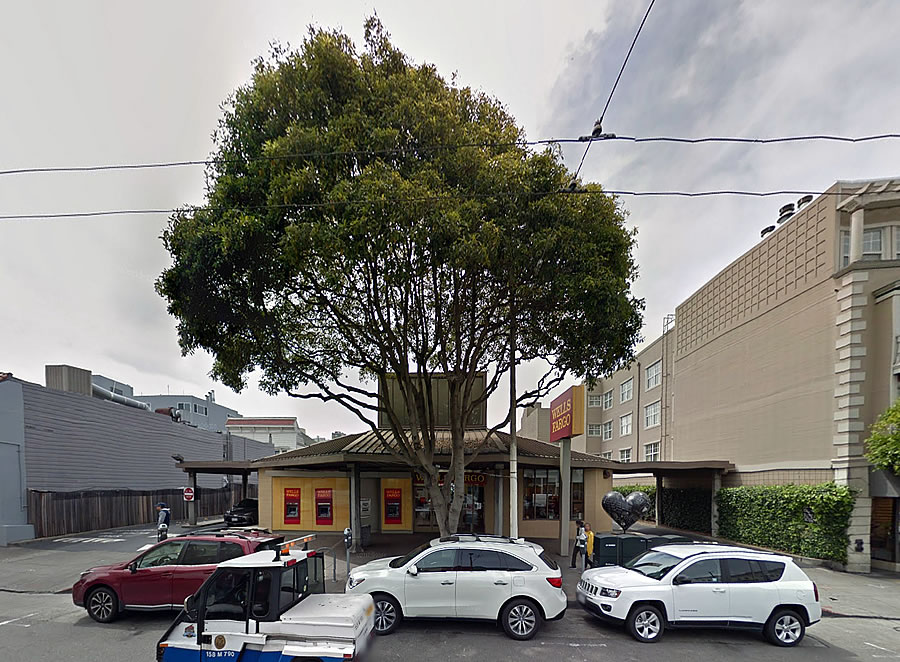 As we revealed back in 2018, plans to level the long-standing Wells Fargo branch building at 2055 Chestnut Street and redevelop its Marina District parcel, which stretches from Chestnut to Lombard, were in the works and subsequently rendered.
Since refined by Jensen Architects for the Prado Group, as newly rendered below, the proposed 40-foot-tall building to rise across the site would yield a total of 49 apartments (a mix of 34 one-bedrooms, 8 twos and 7 threes) over 36,700 square feet of new retail space (including 14,000 square feet of basement space for a potential grocery store tenant) and a basement garage with its entrance on Lombard and 20 parking spaces to serve the retailers and no off-street parking for the development's residents (save a ground floor storage room for 52 bikes).
And having just been cleared from having to complete a resource-intensive environmental review, the proposed infill development could soon be approved. That being said, permits for the project have yet to be requested, much less approved, and Wells Fargo has yet to move down the block to 2100 Chestnut Street. We'll keep you posted and plugged-in.