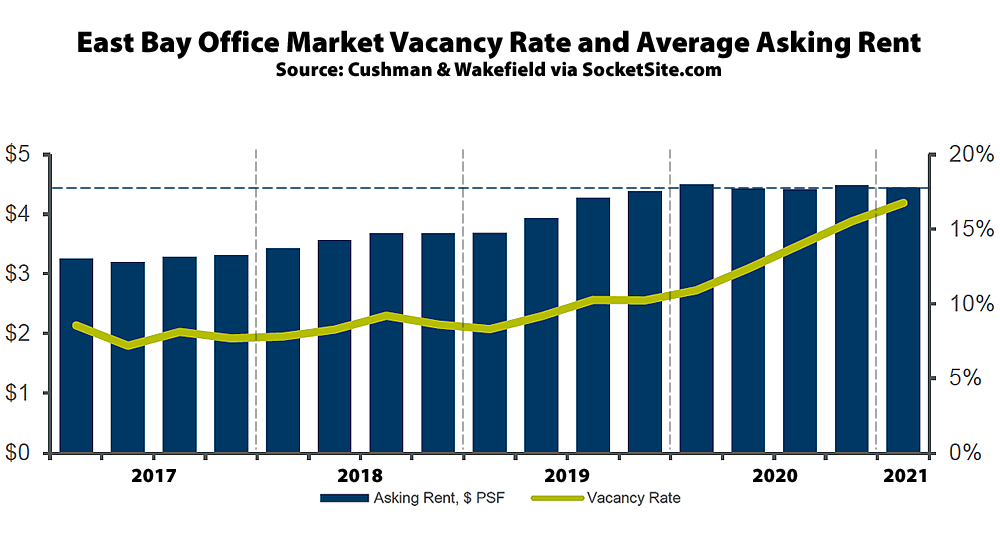 With the office vacancy rate in San Francisco nearing 19 percent, with nearly 16 million square feet of vacant space, the vacancy rate for office space in the East Bay, not including Walnut Creek or further east, has ticked up to 16.8 percent, with 4.3 million square feet of un-leased space and 1.1 million square feet of space which has been leased but is sitting vacant and seeking a subletter, according to Cushman & Wakefield.
At the same time, landlords have held relatively firm in terms of asking rents over the past year, as had landlords in San Francisco.
And as such, the average asking rent for East Bay office space was $4.45 per square foot per month at the end of March, up one cent ($0.01) over the past quarter and only down $0.05 (1.1 percent) versus the same time last year, but with rents in Oakland's Central Business District (CBD) having dropped an above-average 6.1 percent over the past year to $5.09 per square foot per year with 2.8 million square feet of that aforementioned 5.4 million square feet of vacant space located in the CBD.