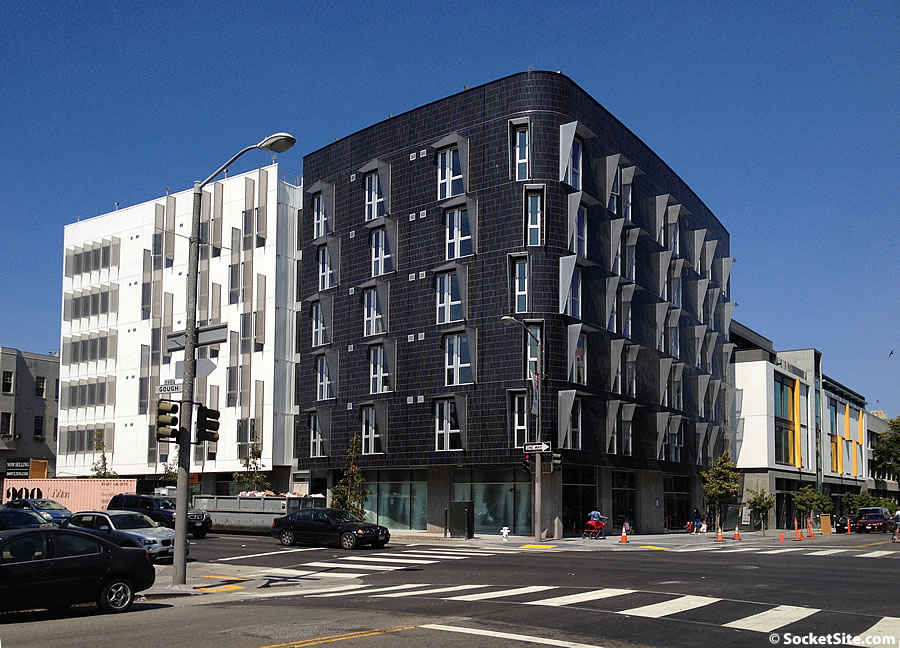 The 714-square-foot, two-bedroom unit #411 was the last unit to sell in the Hayes Valley development at 388 Fulton Street back in 2016.  And while originally priced by the sales office at $962,000, which was in-line with the pricing for the other 68 units in the building which sold, the list price for unit #411 was dropped to $899,000 in November of 2016 in order to wrap up sales in the development by the end of the year and the unit was sold for $863,250 that December.
The "fabulous South West corner" unit, with "modern finishes," "Bertazzoni & Bosch appliances," and "lots of light and city outlooks," returned to the market priced at $850,000 two weeks ago and has already closed escrow with an "at asking" contract price of $850,000, which only down 1.5 percent from its discounted sale in the fourth quarter of 2016.
At the same time, the recent sale was also 11.6 percent below the unit's original list price, prior to its close out sale. And as we outlined two weeks ago, the top-floor, two-bedroom corner unit #605 at 388 Fulton Street, which was priced at $1,075,543 in early 2016 and sold for $1,069,433 that September, just re-sold for $960,000, down 10.2 percent on an apples-to-apples basis.