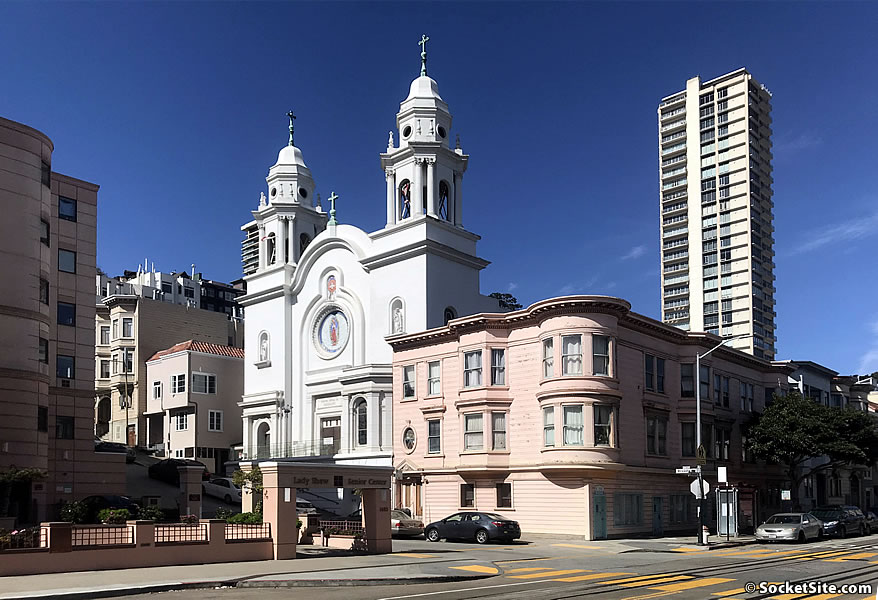 As we outlined in October of last year:
Built in 1912, the 15,000-square-foot Our Lady of Guadalupe Church at 906 Broadway was designated San Francisco Landmark #204 back in 1993.

The Archdiocese of San Francisco sold the church along with the adjacent 4,700-square-foot residential building, uphill at 908 Broadway, to an investor for $2.3 million in 2013.

And in 2016, Startup Temple Holdings, backed by a Russian tech entrepreneur turned Silicon Valley venture capitalist, purchased the buildings for $7.0 million and opened Hack Temple ("Hackt"), an event venue for "international thought leaders" and a "gospel of innovation" within the existing space.

Plans to formally covert the church into an educational facility, "for international technology startup founders and teams entering US market and aiming to raise capital in Silicon Valley," were drawn.

The aforementioned Landmark designation was subsequently amended by San Francisco's Board of Supervisors to include a whole host of the church's interior features and further limit any alterations.

And the church, which is zoned for residential use, is now back on the market with a $7.5 million price tag, a price tag which doesn't include the residential [rectory] building at 908 Broadway which is also on the market and is being offered together or separately with an additional $5.5 million ask.
And noting that "the Church was booked solid, prior to COVID," and that the adjacent Rectory building, which was recently remodeling and converted into a co-living space, "is operating and as popular as ever," new marketing materials for the buildings have been drafted and the list price of the two building portfolio has just been reduced to $7 million, combined.