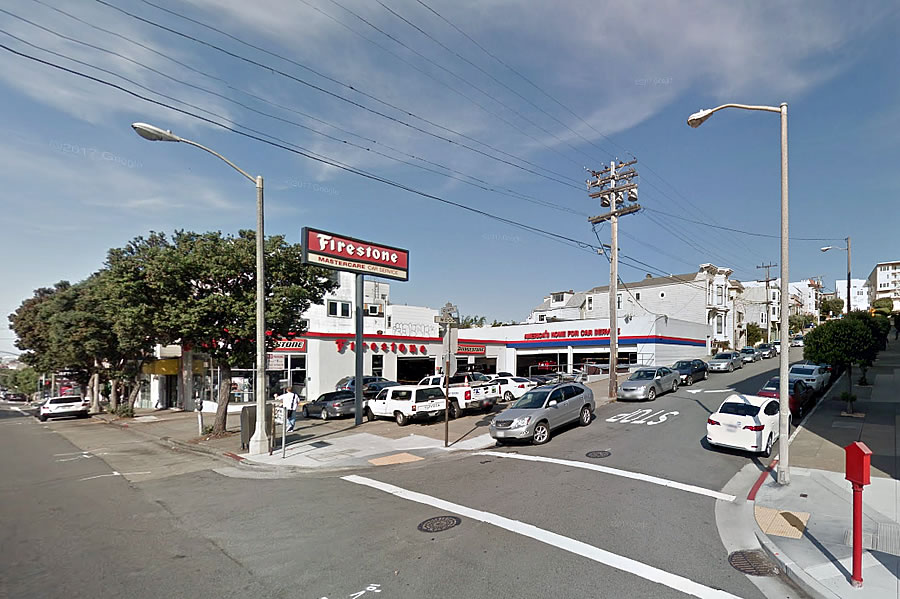 As we first outlined last year, plans to level the now shuttered Firestone Complete Auto Care shop at 2800 Geary Boulevard and build a bonus-sized development on its Laurel Heights/Lone Mountain parcel are in the works.
And as newly rendered by Elevation Architects below, the refined plans for the proposed six-story building to rise on the corner site would now yield 43 condos (a mix of 25 one-bedrooms, 13 twos and 5 threes) over 770 square feet of ground floor retail space at the corner of Geary and Wood, with a garage for 25 cars and 43 bikes (including 3 cargo bikes and 10 e-bikes), parking for 5 "fleet" bikes and a dedicated storage room for car seats and strollers near the building's elevator.
And while the corner parcel is only zoned for development up to 40 feet in height, the development team is planning to leverage San Francisco's HOME SF program for the extra height and density as envisioned.