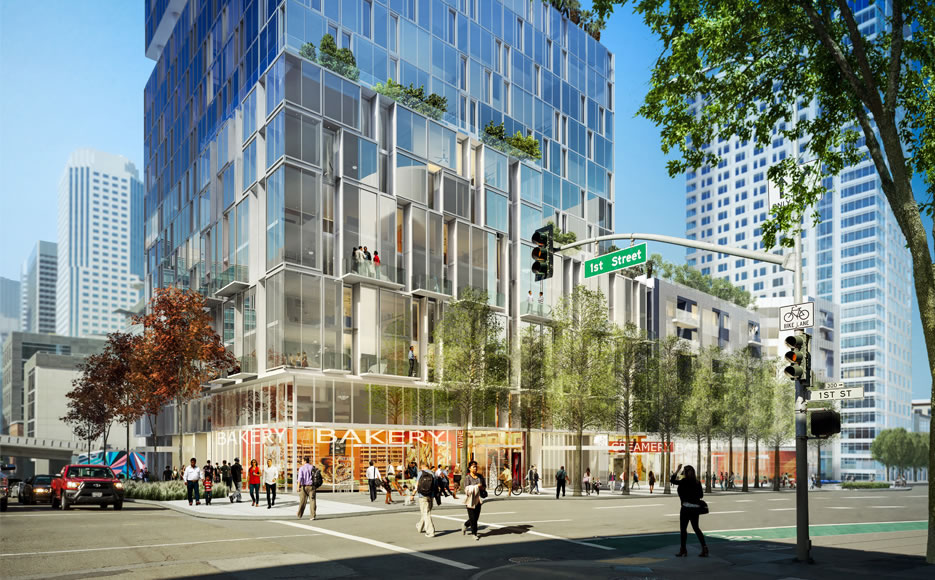 As we first reported last year:
It's now been over two years since Related California cut 99 residential units from their development plans for Transbay Block 8 and reduced the project's proposed grocery store space from 22,000 to 12,500 square feet, a reduction that rendered the space too small for a large grocer like Whole Foods or Trader Joe's.

While the approved development agreement for the 548-unit building to rise up 55 stories in height upon the City's former Transbay Block 8 requires Related to use "good faith efforts" to obtain a grocery tenant "on commercially reasonable terms," with a full-service grocery having been deemed "very important" to the development of the Transbay District and its future residents by the City's Office of Community Investment and Infrastructure, Related could seek approval from the City "to reprogram the space for another use" if a lease hasn't been inked at least 12 months prior to the anticipated completion date of the grocery store space which is currently slated for August 2019.

And according to Related's latest update to the City, neither Bi‐Rite nor Gus's Community Market have expressed interest in the future space along Folsom between Fremont and First nor has another operator.
And with the expected opening of the new "Avery" tower and retail space at the base of the development on Transbay Block 8 (aka 450 Folsom Street) now less than 12 months away, Related is now formally requesting to terminate their obligation and repurpose the space rather than provide a new full-service grocery to serve the neighborhood.