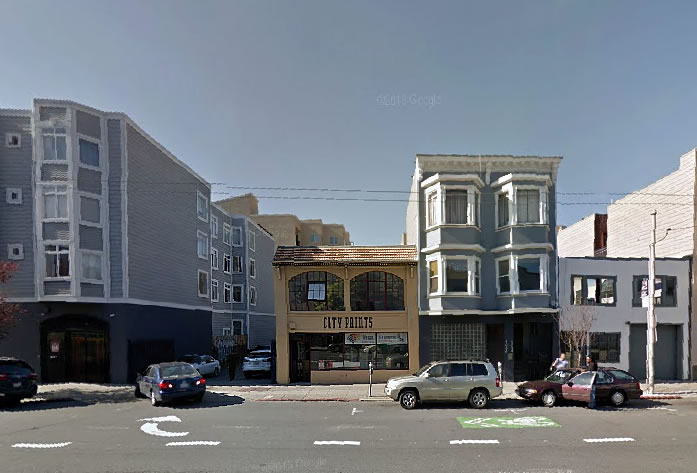 As we first reported last year:
A developer recently met with San Francisco's Planning Department to discuss the potential for an eight-story building with up to 22 condos to rise behind the existing façade of the vacant two-story City Paints building at 1088 Howard Street and to convert the Western SoMa building's parking lot into a temporary food truck court.

The stated goal of the meeting was for the development team "to gain a detailed understanding of the [Planning Department's] plans and goals for new developments in the neighborhood so [the team could] devise a thoughtful development proposal and work through entitlement stages as efficiently as possible." And the developer's estimated time to secure approvals for the development as envisioned: 30 months.

But a formal proposal for the parcel has yet to be drafted. And an offering memorandum for the 1088 Howard Street parcel is now making the rounds without a set asking price and calling for offers at the end of the month.
The site traded hands at the end of last year. And on Monday, the preliminary plans for a five-story, 60-foot addition to rise atop the existing historic City Paints structure were formally submitted to the city for review, with a proposed layout which would still yield 22 new apartments (a mix of 12 one-bedrooms and 10 twos) and a garage for 5 cars and 24 bikes. As always, we'll keep you posted and plugged-in.