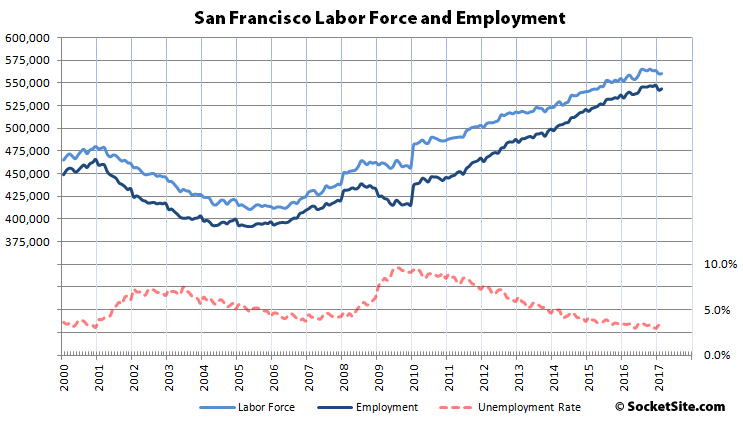 Having dropped the most in nearly a decade at the beginning of the year, the number of people living in San Francisco with a job ticked up by 1,400 last month to 543,200 but remains 4,000 below its peak at the end of 2016.
At the same time, there are still 77,700 more people living in San Francisco with paychecks than there were at the end of 2000, an increase of 106,500 since January of 2010 and 5,600 more than at the same time last year, but the year-over-year gains have been trending down since the fourth quarter of 2014, with last month's the smallest in eight years.
And with the labor force in San Francisco having inched up by 200 last month, the unemployment rate in the city has dropped to 3.0 percent.
In Alameda County, which includes Oakland, employment slipped by 800 in February but remains 5,500 higher than at the same time last year, which is the smallest year-over-year gain in six years, with an unemployment rate of 3.9 percent and 110,300 more employed residents since January of 2010.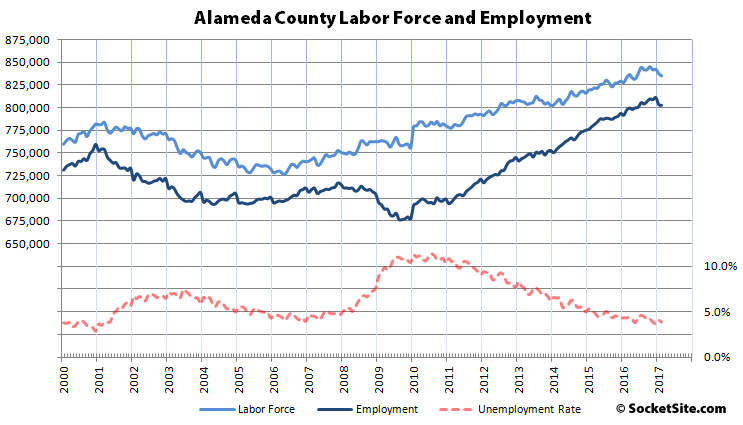 Employment across the greater East Bay slipped by a nominal 900 last month while the unemployment rate dipped to 4.0 percent as the labor force declined by 3,900.
Up north, employment in Marin County inched up by 600 to 136,500 and the unemployment rate dropped to 3.0 percent.
And down in the valley, employment in San Mateo County ticked up 1,200 to 436,300, dropping the unemployment rate to 2.8 percent while employment in Santa Clara County dropped by 2,400 to 985,600 but its unemployment rate (3.5 percent) dropped as well as the labor force shed 4,000.