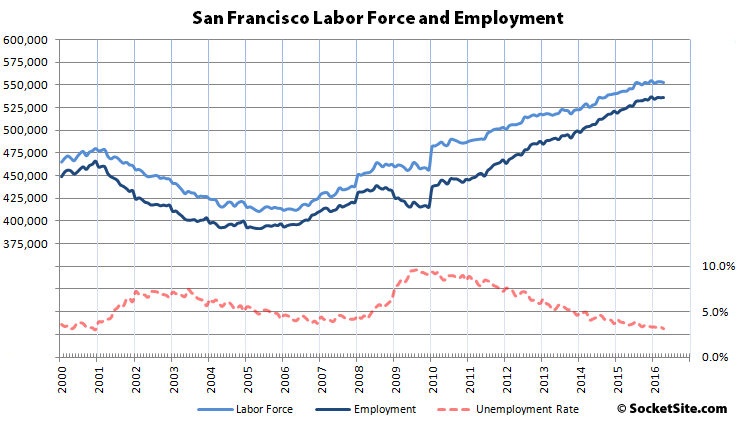 While the unemployment rate in San Francisco has dropped to 3.1 percent, the lowest unemployment rate since the end of the dot-com boom, the drop from 3.3 percent in March was driven by 900 people leaving the labor force versus the 100 jobs that were added.
In fact, the number of employed people living in San Francisco (535,500) hasn't changed over the past quarter.
Over the same three months last year, employment in San Francisco increased by 2,600. The year before that it increased by 2,800. And the last time it was flat to down was in 2009.
That being said, there are still 70,000 more people living in San Francisco with paychecks than there were at the end of 2000 and 11,500 more over the past year, an increase of 98,800 since January of 2010 but 900 fewer versus at the end of last year.
At the same time, employment in Alameda County, which includes Oakland, dropped by 700 in April to 790,800 yet the unemployment rate dropped to 4.1 percent as the labor force shed 2,000 folks.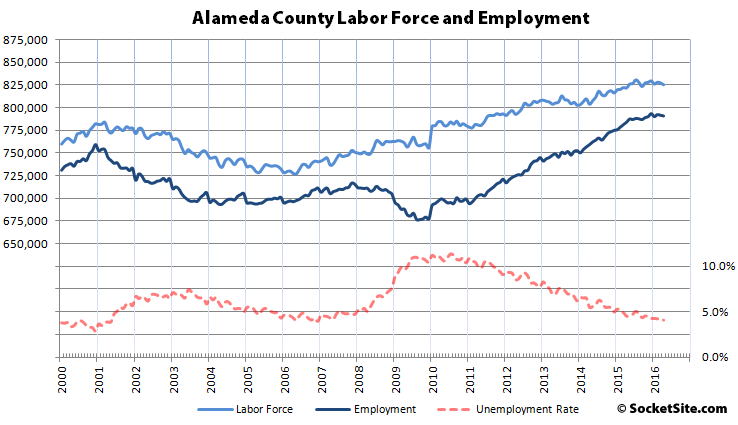 Employment in Alameda County remains 6,900 higher over the past year, down from 10,300 higher on a year-over-year basis in March.