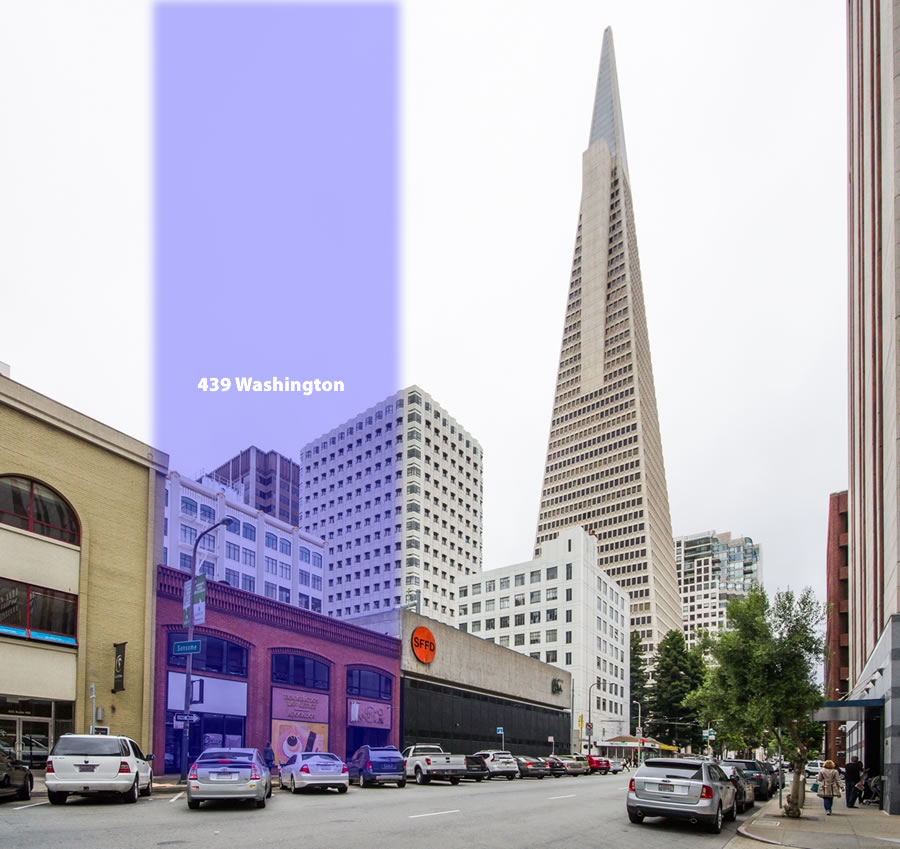 While principally zoned for development up to 200-feet in height, Peninsular Realty's plans to demolish the two-story Il Massimo building at 439 Washington Street and construct a 22-story hotel, with 189 rooms over 3,500 square feet of retail space, have been tentatively deemed too big for the site.
And in fact, San Francisco's Planning Department is recommending that the proposed height of the development be cut in half.
As proposed, the 101,000 square foot tower exceeds the allowable Floor Area Ratio for the 4,700 square foot lot, even with Transferable Development Rights applied for a maximum ratio of 18:1. In addition, the tower would need to be redesigned by Stanton Architecture for tower separation setbacks above 90-feet in height. And based on the City's preliminary review, the proposed 200-foot tower would likely cast significant, shadows on a number of nearby public parks and open spaces, including Maritime Plaza, the Embarcadero Center Plazas, Sydney G. Walton Square, Transamerica Redwood Park and Sue Bierman Park, shadows which are disallowed by San Francisco's Sunlight Ordinance.
Finally, as the project site is located in a transitional zone between Downtown and the Jackson Square historic district, the Planning Department is recommending that, "the building height might be more appropriate at 90′ to 100′."
We'll keep you posted and plugged-in.