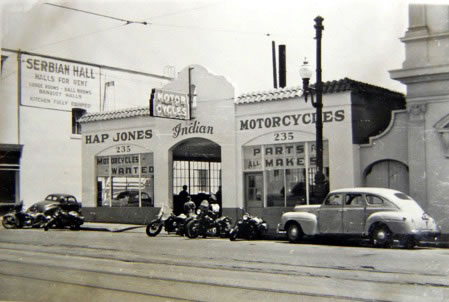 A member of the American Motorcycle Association Hall of Fame, Loren 'Hap' Jones was a pioneer in motorcycle riding, racing and culture. And he was the first civilian to cross the Golden Gate Bridge, silently weaving his Indian motorcycle through the crowd of pedestrians waiting to cross the new span in 1937, and then racing across as soon as the opening ribbon was cut.
Around 1940, Hap founded the Hap Jones Dealership at 235 Valencia Street, which specialized in the sale and service of Indian, Norton and BSA motorcycles. Hap sold his shares in the dealership in 1970, at which point the name of the shop, which closed in 1988, was changed to Dave Golden Motorcycles.
Last year, the current owners of the single-story Mission District building quietly met with the City's Planning Department to discuss demolishing the existing structure in order to clear the way for a 50-foot-tall building with 32 condos over retail and parking to rise.
And while the structure itself wasn't deemed worthy of being landmarked when surveyed by the City, a community-sponsored application to designate the building a Historic Landmark based on its association with Hap and importance to the development of motorcycling culture has been submitted to the City's Historic Preservation Commission for review.
If the Commission agrees to initiate landmark proceedings for 235 Valencia next month, a second hearing will be held to consider whether or not to recommend landmark designation to San Francisco's Board of Supervisors.