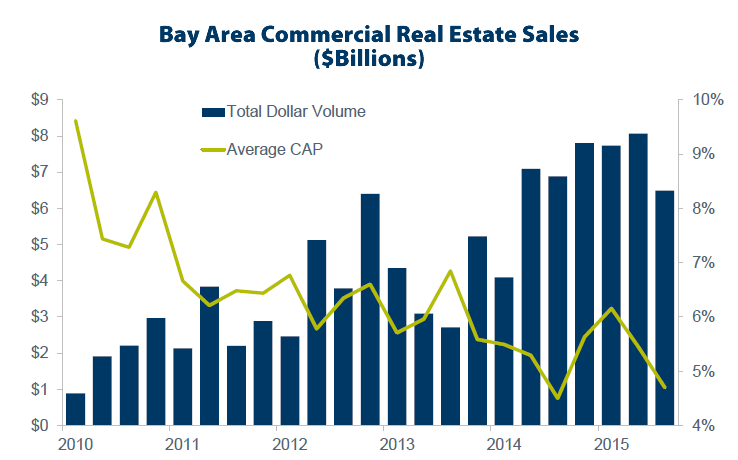 $6.49 billion of Bay Area commercial real estate, defined as properties valued at over $5 million apiece, traded hands in the third quarter of 2015, down 5.7 percent from $6.88 billion in the third quarter of 2014 and a 20-ish percent drop in dollar volume from the second quarter of this year, according to data from Cushman & Wakefield.  And the trailing 12-month average has been trending down.
That being said, the dollar volume last quarter was 44 percent above the quarterly average of the past five years and total sales in 2015, which currently tallies $22.4 billion, will likely surpass 2014, which would make 2015 the second highest total dollar volume year on record behind the $34.9 billion recorded in 2007.
The average CAP Rate across all property types – office, industrial, retail and multi-family – was 4.7 percent last quarter versus 4.5 percent at the same time last year, but the uptick was driven by an increase in the CAP Rate for retail properties and CAP Rates for the other classes actually compressed, with the average CAP Rate for office properties dropping to 4.3 percent.
Roughly 9 percent of Bay Area investment property sales have been to foreign entities so far this year.