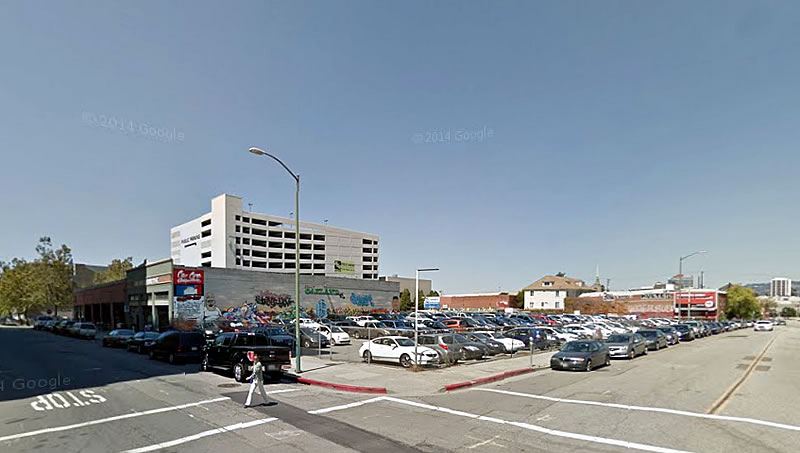 The plans for a seven-story building with 265 residential units over parking for 350 cars and 18,000 square feet of retail space to rise across a 1.4-acre site composed of the two parking lot parcels at 2315 Valdez and 2330 Webster near Oakland's Broadway Auto Row are working their way through the City's Planning Department.
The ground floor of the proposed building along Valdez Street, as rendered above, would provide space for multiple retail/commercial tenants, while the ground floor along Webster would include the residential lobby, garage entrance and some retail space as well.
Floors three through seven would be residential units, consisting of approximately 56 studio units, 141 one-bedroom units, and 68 two-bedroom units. Approximately 15 percent of the housing units would be below-market-rate units, affordable to very-low- and moderate income households, although the number of affordable units and range of affordability have yet to be determined.

The main residential entrance and lobby would be on Webster Street; additional pedestrian egress for the project would be on Webster Street and 23rd Street. The parking garage would be accessed from a 24-foot curb cut on Webster Street. Two residential loading spaces and one commercial loading space would be accessed from 23rd Street, requiring a new curb cut and removal of up to four on-street parking spaces on the northern side of 23rd Street.

Of the total 350 parking spaces provided in the garage, 242 parking spaces may be purchased by the City of Oakland and operated as a public parking garage. The remainder of the parking spaces would be provided as unbundled parking available for residents.
The proposed development would also include new street lights, furniture and trees, along with bulbouts at the northeastern and northwestern corners of the 23rd Street/Webster Street intersection and the northwestern corner of 23rd and Valdez.
The project site was previously entitled for a 281-unit condo building and was purchased by the City of Oakland for $4 million in 2010 after the market crashed and the two parcels were foreclosed upon.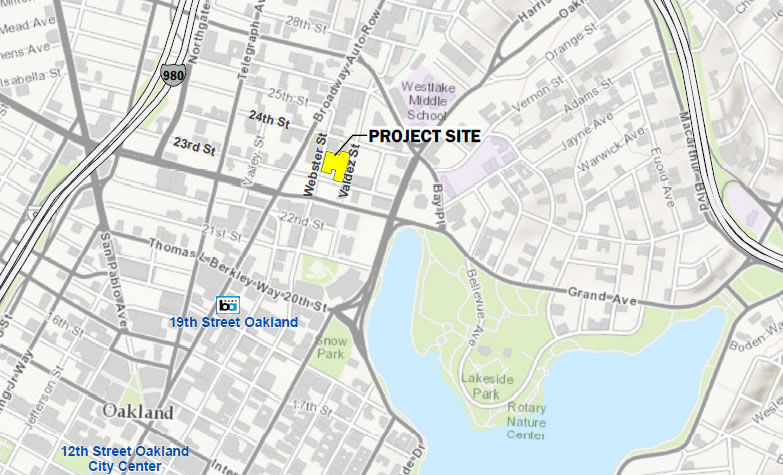 Harrison TDP Partners has been in exclusive negations with the City to purchase the project site and has been working with KTGY Architecture + Planning on the design.
The development team is currently planning to break ground in spring 2016 and be ready for occupancy by fall 2018, assuming the project and purchase are approved and survive any challenges.