Single-family home and condominium values within the San Francisco Metropolitan Area gained 2.0 and 2.2 percent respectively in April, according to the latest S&P Case-Shiller Home Price Index.
The San Francisco index for single-family homes is running 10.0 percent higher on a year-over-year basis and is within 3.7 percent of a 2006 peak, having gained 55 percent since January of 2010.
The index for the bottom third of the market gained 2.9 percent in April and is running 11.9 percent higher versus the same time last year; the index for middle third of the market gained 2.3 percent, up 10.6 percent year-over-year; and the index for the top third of the market increased 1.8 percent in April to an all-time high and is up 9.5 percent year-over-year.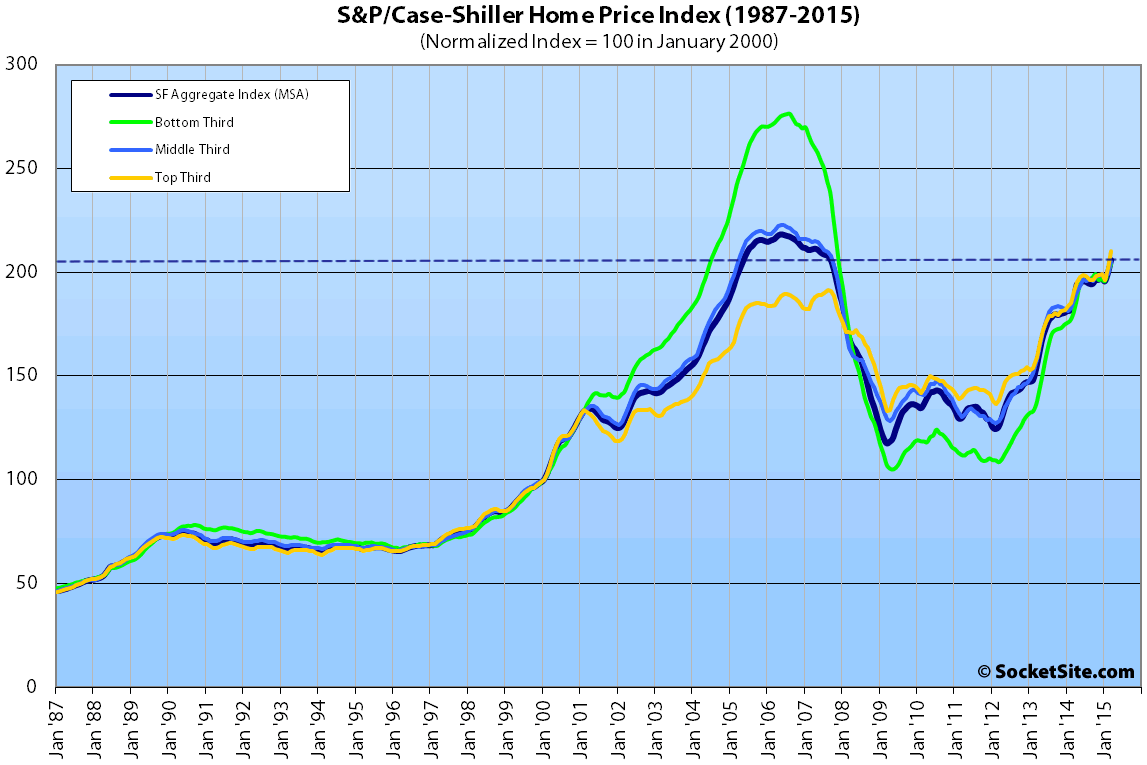 According to the index, single-family home values for the bottom third of the market in the San Francisco MSA have doubled since 2009 and are back to just below August 2004 levels (24 percent below an August 2006 peak); the middle third is back to just below May 2005 levels (5 percent below a May 2006 peak); and home values for the top third of the market are at an all-time high, 11.8 percent above their previous peak in August of 2007.
San Francisco condo values gained 2.2 percent in April and are running 13.8 percent higher on a year-over-year basis, 13.8 percent higher than at the peak of the previous cycle in October 2005.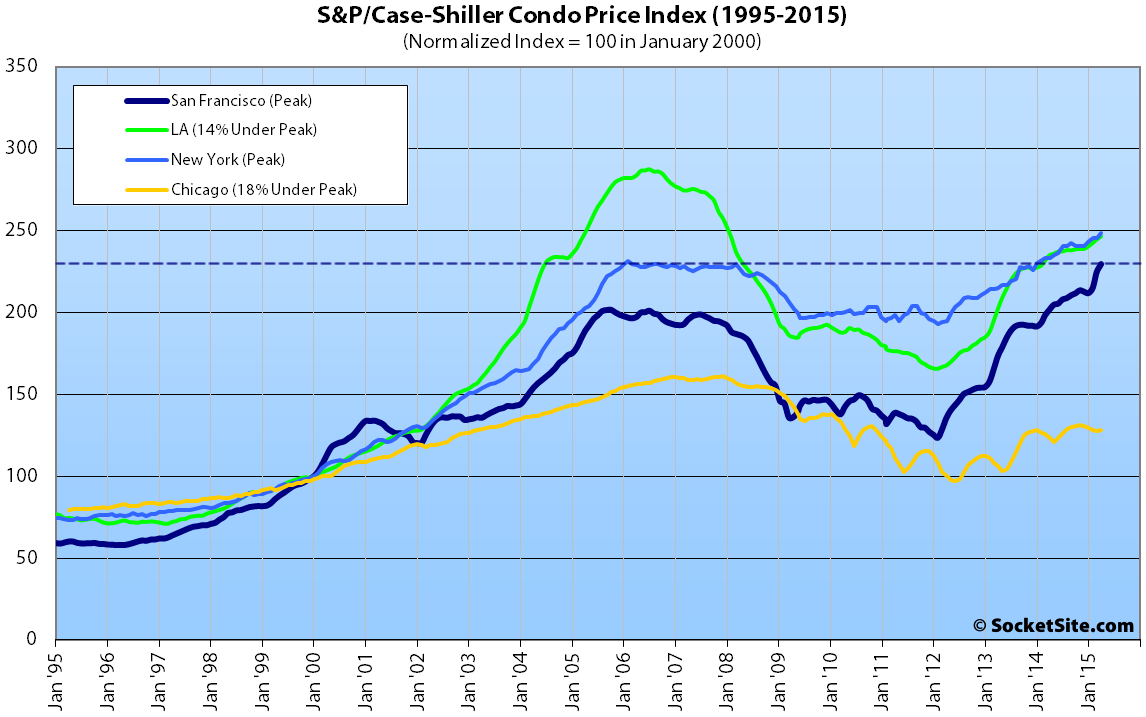 For the broader 10-City U.S. composite index, home values gained 0.9 percent in April and are running 4.6 percent higher on a year-over-year basis but remain 15.2 percent below a June 2006 peak.
From David Blitzer, the Managing Director and Chairman of the Index Committee at S&P Dow Jones Indices:
"Home prices continue to rise across the country, but the pace is not accelerating.

Moreover, consumer expectations are consistent with the current pace of price increases. A recent national survey published by the New York Fed showed the average expected price increase among both owners and renters is 4.1%. Both the current rate of home price increases and the consumers' expectations are a bit lower than the long term annual price change of 4.9% since 1975. These figures, however, do not adjust for inflation.

The real, or inflation adjusted, price change since 1975 is one percent per year. Given the current inflation rate of under two percent, real home prices today are rising more quickly than is typical."
The long-term average annual home price appreciation for San Francisco measured 4.2% back in 2006, at which point the city was deemed "bubble-proof," in part due to the inability to build on large swaths of underdeveloped land, such as Treasure Island.
Our standard SocketSite S&P/Case-Shiller footnote: The S&P/Case-Shiller home price indices include San Francisco, San Mateo, Marin, Contra Costa, and Alameda in the "San Francisco" index (i.e., greater MSA) and are imperfect in factoring out changes in property values due to improvements versus appreciation (although they try their best).