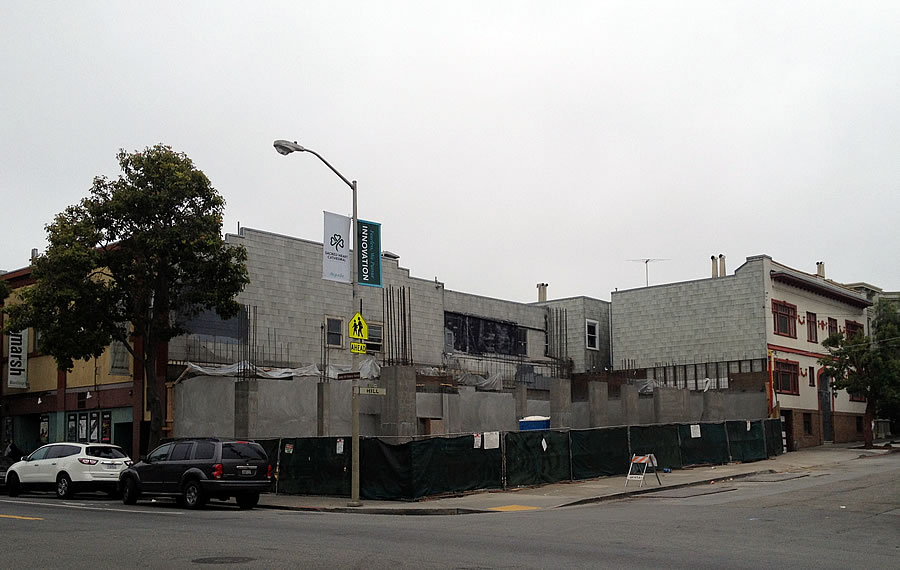 A Superior Court Judge has frozen the five-story development rising at 1050 Valencia Street mid-construction, ruling that San Francisco's Board of Appeals "abused its discretion" and "failed to set forth the analytic route it traveled" when the Board reversed its original vote which would have limited the Mission District development to four-stories in height.
Approved by Planning in 2012 and permitted for five stories, with 12 condos and retail on the ground floor, the permits for the 1050 Valencia Street project were appealed by the Liberty Hill Neighborhood Association in 2013 and the City's Board of Appeals voted 5-0 to require the project to remove a floor in order to proceed.
Facing the threat of legal action based on the California Housing Accountability Act, and public condemnation from Supervisor Wiener, the Board of Appeals then reversed its original vote and ruled against the appeal in 2014, allowing for a fifth floor to be built.
From Superior Court Judge Ernest Goldsmith's order last week in response to a petition from Neighbors for Preservation and Progress, halting construction and ordering further hearing:
[The Board of Appeals] abused its discretion because its decision of February 26, 2014, does not comply with [the case law].  Viewing the record as a whole, there is an insufficient analytical bridge between the raw data and decision.
Also noted by the judge, "the Court cannot determine based on the instant record whether Supervisor Weiner (sic) illegally tainted the deliberative process in violation of San Francisco City Charter 2.114 or whether he was merely expressing his opinion under the First Amendment."
The Board of Appeals will formally vacate its 2014 ruling on Wednesday, setting the stage for a new hearing on the height of the 1050 Valencia Street project at a yet to be determined date.