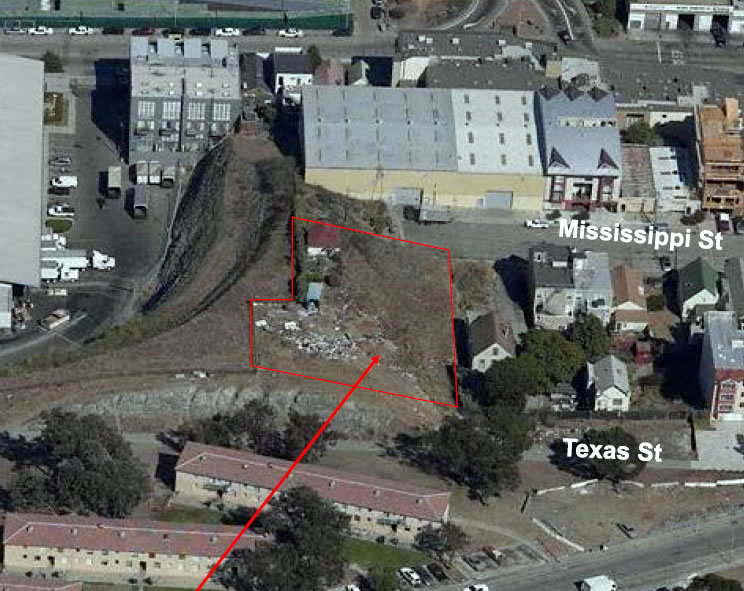 Approved for development back in 2008 but waylaid by the economy and having since lost its entitlement to be built, the plans for a 28-unit condo complex to rise up to four stories at 1000 Mississippi Street, just below the public housing to be redeveloped on the southeastern slope of Potrero Hill, have been redesigned and revived.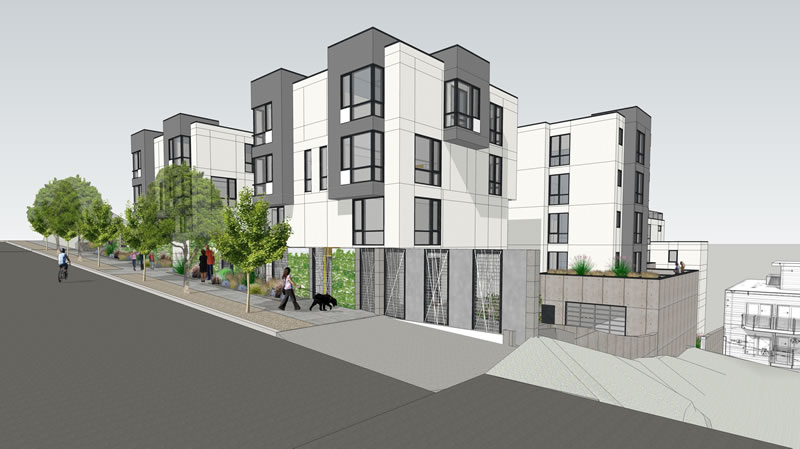 The revised design by Ian Birchall and Associates for Heights Properties, the project sponsor, includes a reduction in the overall mass from approximately 44,602 to 51,965 square feet while increasing the project's common open space with the addition of a third courtyard.
The height of the proposed development, the unit count (which includes 22 two-bedrooms, 4 three-bedrooms, and 2 four-bedrooms), and the number of off-street parking spaces (28) remain the same.
Access to the garage would be by way of Texas Street (which currently terminates 170 feet to the south of the project site but would be extended by 270 feet and widened to 35-feet, with 10-foot-wide sidewalks), and the door on Mississippi, which was originally intended to be the development's main entrance, has been redesigned to act as an emergency exit to appease neighbors on the street.
San Francisco's Planning Commission is slated to re-approve the development on Thursday with the Planning Department's support.
UPDATE: While the summary for the Planning Commission states, "The Project will have two principal pedestrian entrances, one each on Mississippi and Texas Streets [and] The Mississippi Street entrance will provide access to the Project's main lobby, mail room and six secure bicycle parking spaces," the Mississippi Street entrance has been converted to an emergency exit (as correctly corrected by a reader below) and the project's only official entrance will be by way of Texas Street: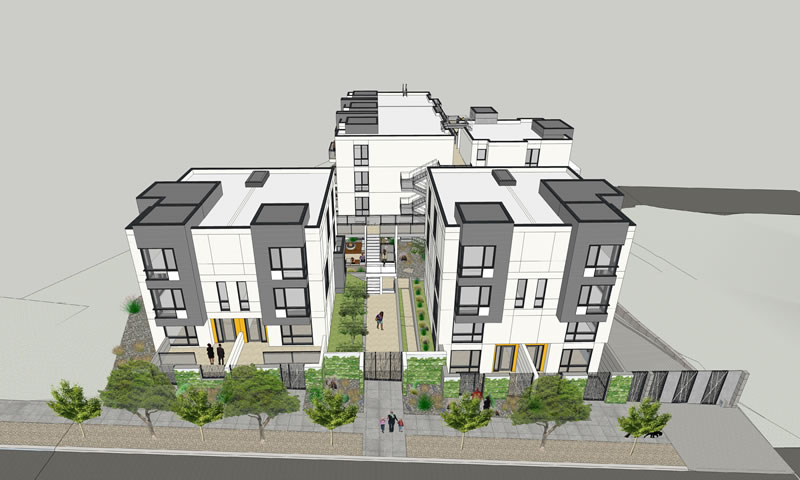 The proposed unit mix for the project has also changed from 22 to 25 two-bedrooms, with 2 three-bedrooms and 1 three.