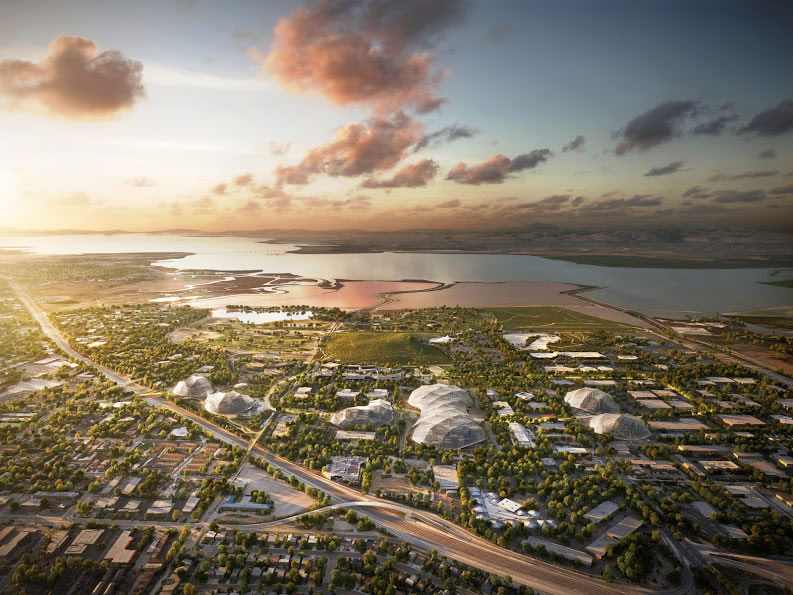 Google's plans for a new high-tech Mountain View campus total over 3.4 million square feet, with a series of canopied structures rising across 60 acres on four North Bayshore sites (the 18-acre Landings; a 7.5 acre parcel on Huff Avenue; a 22-acre block at Charleston and Joaquin; and 12.5 acres south of Charleston at Shoreline Boulevard).
And as designed and envisioned by Bjarke Ingels Group (BIG) and Heatherwick Studio, the interior of the structures would transform on demand, by way of automated cranes and robots.
From the Business Times which had the scoop:
Inside the glass canopies, Google imagines stationary steel support columns upon which lightweight, modular building pieces can be inserted, removed, raised or lowered at will. Think of the floors sort of like oven racks; the walls between them can be added, or not. Crabots (which Google calls "a range of small flexible and manageable cranes and robotic machines") would lift and move these building segments around almost like furniture.

"We envision there will be some more permanent structures like stairwells and restroom cores and things like that," said [David] Radcliffe, who is Google's vice president of real estate and workplace services. "Then we think there will be other components you can actually take out and put in."

The canopies themselves would generate electricity, while movable shades embedded in a second canopy layer control glare and keep the interior cool.
Google's North Bayshore campus proposal includes over 30 acres of reclaimed open space as well, with new wetlands, woodlands, burrowing owl habitat, parks and an eleven mile "green loop" for walking and biking throughout the campus, and a pedestrian/bike bridge across Highway 101 at Rengstorff Avenue.
If approved, Google hopes to have its first two structures on the Landings and Huff sites in place by the end of 2020, with the campus complete by 2024.
And if approved, Google's plans could effectively block LinkedIn's plans for a North Bayshore expansion, plans which will also be presented to the city of Mountain View today.
UPDATE: Google's gallery of North Bayshore Campus renderings and pitch in video form: