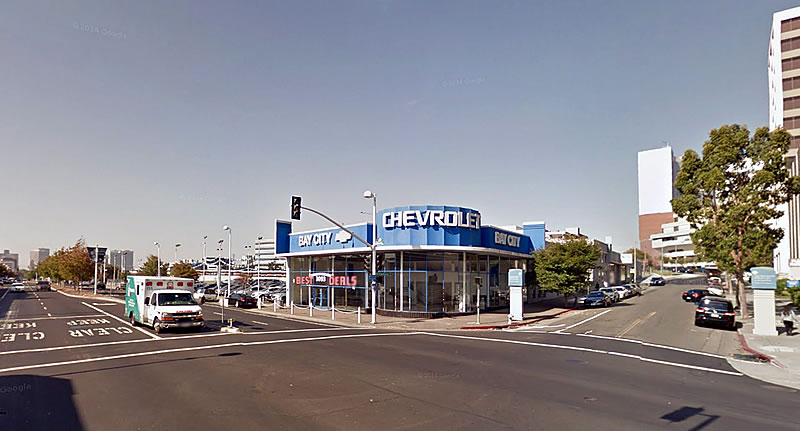 Plans to demolish the majority of the Oakland Auto Center at 3093 Broadway and build a seven-story development across the 3.5 acre Auto Row parcel have been filed with the city and could result in over 400 residential units and 24,000 square feet of ground-floor retail space rising on the site.
As proposed, the existing Bay City Chevrolet building on the corner of Broadway and Hawthorne, a.k.a. the Connell Building, would be partially saved, integrating the front showroom – inclusive of the façade and parapet wall, the cylindrical tower, and a portion of the showroom's terrazzo flooring – into the new mixed-use development which would rise to a height of 85-feet across the Pill Hill parcel on Oakland's Auto Row.
The proposed new building would have apartment-style units above ground floor retail along Broadway, ingress and egress for parking and apartment-style units along Hawthorne Avenue, and townhouse-style units along Webster Street. Two interior courtyards would provide private open space for the units. A pedestrian corridor would connect Broadway to Webster Street along the southern edge of the parcel; it would be open to the public during specified daytime hours.

The first floor of the proposed new building would contain approximately 24,000 square feet of ground floor retail along Broadway, with multiple tenant spaces, separated by a lobby serving the apartment units above. Partially below-grade podium parking would be available on the first two floors of the building, and residential units would be on floors three through seven. The residential unit mix would consist of approximately 135 studio units, 147 one-bedroom units, and 146 two-bedroom units. In addition, the proposed project would provide seven townhouse units along Webster Street.
The development would include around 620 parking spaces, including around 50 for the retailers, and enclosed parking for 266 bikes.  And if approved, the development will take around two years to complete.
We'll keep you posted and plugged-in as the plans progress.