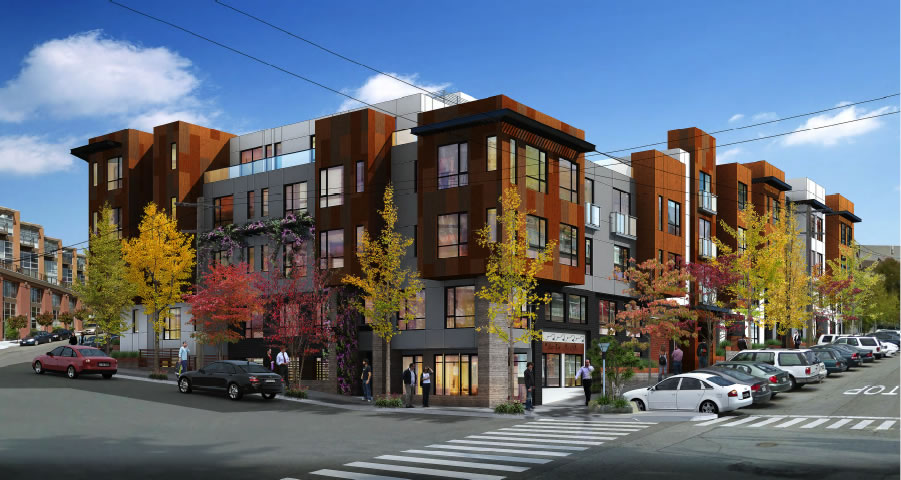 If approved next week, a five-story building with 91 condos and 600 square feet of corner retail space could rise at the eastern end of Potrero Hill, fronting Texas, 22nd and Mississippi Streets.  As proposed, sixty percent of the condos would be two-bedrooms or larger and average a little over 870 square feet apiece.
Designed by BDE Architecture with a facade finished in wood veneer and composite panels, the 645 Texas Street project includes 69 off-street parking spaces (including 2 spaces for car sharing); parking for 104 bikes; and 9,500 square feet of open space with a central courtyard outfitted with "fire tables," seating and an outdoor movie wall.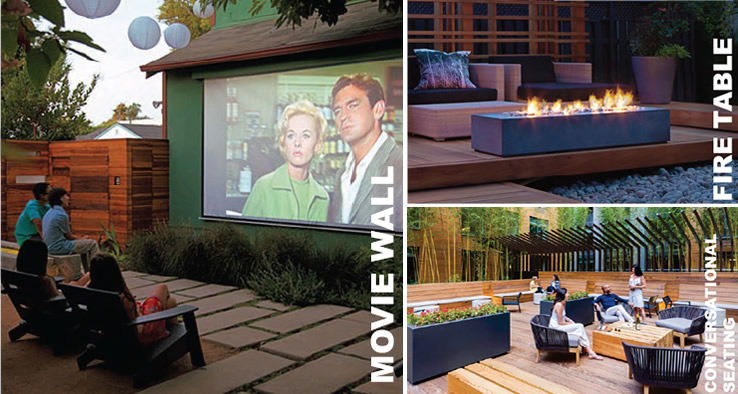 As we first reported about the project two years ago, early plans for the site had included 101 units and a non-conforming 101-car garage, a proposal which led to "strongly encourage" Trumark to minimize the number of off-street parking spaces, "because of the site's proximity to public transportation, and in conformance with the General Plan and the recently enacted Eastern Neighborhoods Area Plan."
While the total height of the development as measured from one end to the other would exceed the 40-foot limit as zoned, the project breaks the building into eight different segments along the sloped lot, and the height for each segment, as measured at its northern most point, is equal to 40 feet and doesn't exceed 45 feet at its midpoint, an approach for the parcel which San Francisco's Planning Department finds reasonable as proposed.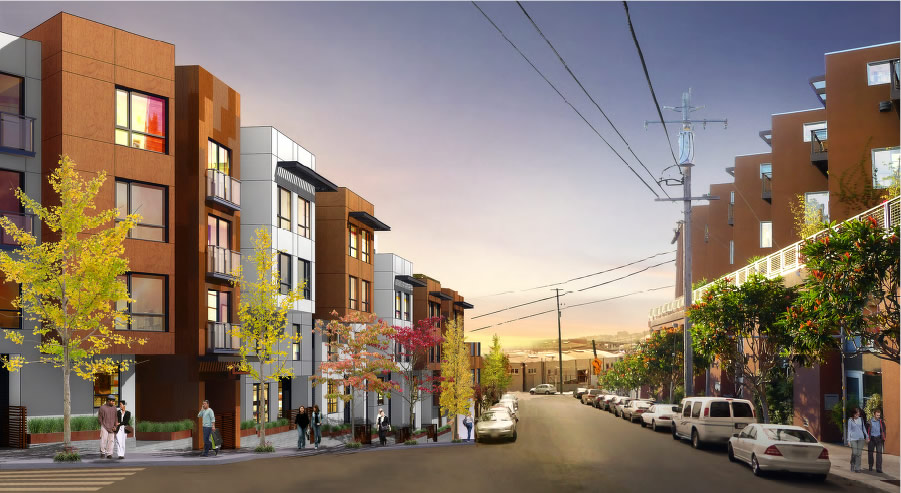 And with eleven of the condos to be below market rate, "creating a socially integrated development," and $881,150 in impact fees to be produced from the development, the Planning Department is recommending that the project be approved as proposed.