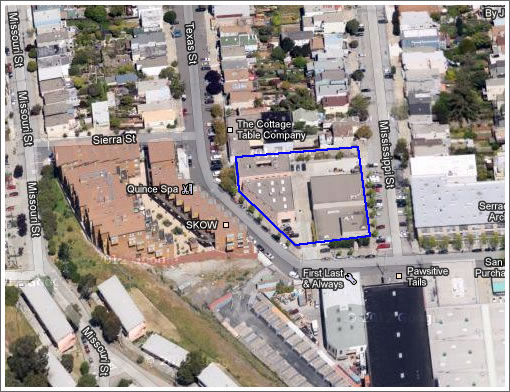 Trumark Homes is testing the development waters in San Francisco having quietly proposed to demolish the two twenty-two foot buildings at 645 Texas Street on the south side of Potrero Hill in order to construct a 40-foot-tall building with 101 residential units which would front Mississippi and 22nd Streets as well.
In terms of unit mix, at least 40 percent of the 101 units would need to have two or more bedrooms, or at least 30 percent with three or more bedrooms, per San Francisco's code.
While Trumark's virgin proposal includes a garage with 101 parking spaces, per the site's Mixed Use Residential zoning, only one off-street parking space is permitted for every two-bedroom over 1,000 square feet plus one off-street space for every other four units (or one space for every other two units with a Large Project Authorization), for a maximum limit of 39 to 59 parking spaces for the building as designed.
As variances or modifications from the maximum limits are not permitted, the Planning Department "strongly encourages [Trumark] to minimize the number of off-street parking spaces because of the site's proximity to public transportation, and in conformance with the General Plan and the recently enacted Eastern Neighborhoods Area Plan."