The Anne Fougeron designed "Flip House," an award winning modern renovation of a 1930s Potrero Hill rowhouse on Wisconsin Street, has just hit the market listed for $3,495,000.
From Fougeron Architecture with respect to the 2012 project which cost $850,000 and why 664 Wisconsin was dubbed the "Flip House":
The Challenge: To reconnect an erratic San Francisco home to its striking landscape, light, and views and transform its confusing program with a new modernist aesthetic.

The Design: A complete flip of the home's facade and interior spaces that reinvents its typography and captures all advantages of its natural and urban site.

Like many San Francisco homes, this one poorly integrated its many levels with each other and with its sloping topography and solar orientation. Reversing its reading, we recast the back of the house as its main facade with a faceted custom-built glass wall. Divided into three vertical panels that push in and out, this dynamic prism begins animating light and spectacular views to the communal living spaces, now placed at the rear. Bedrooms were flipped to the front.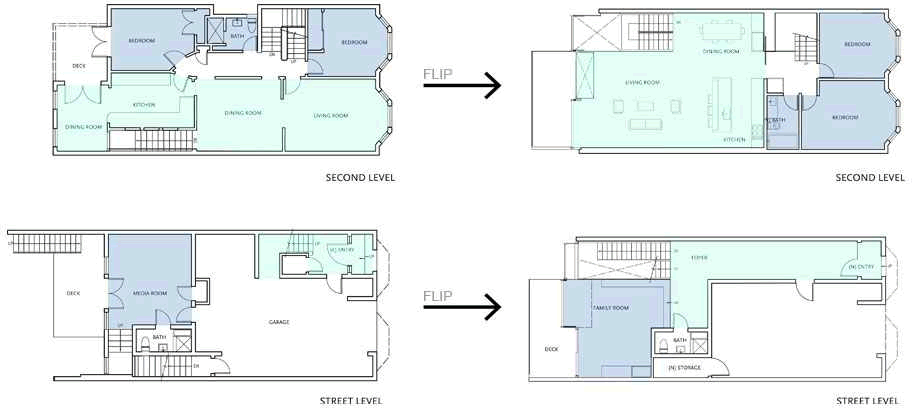 We also rationalized the circulation, replacing disconnected staircases with one rear stair that smoothly links all three levels and the garden below. The street-level entry now leads to a generous foyer that is open to this staircase and to a guest room/den. The open plan of the second floor allows the kitchen and living room space to look down into this den and outward to the striking city, bay, and garden vista beyond.
The 2,800 square foot renovation didn't include the roughly 800 square foot third floor master suite which was added prior to 2012 at a cost of around $500,000.