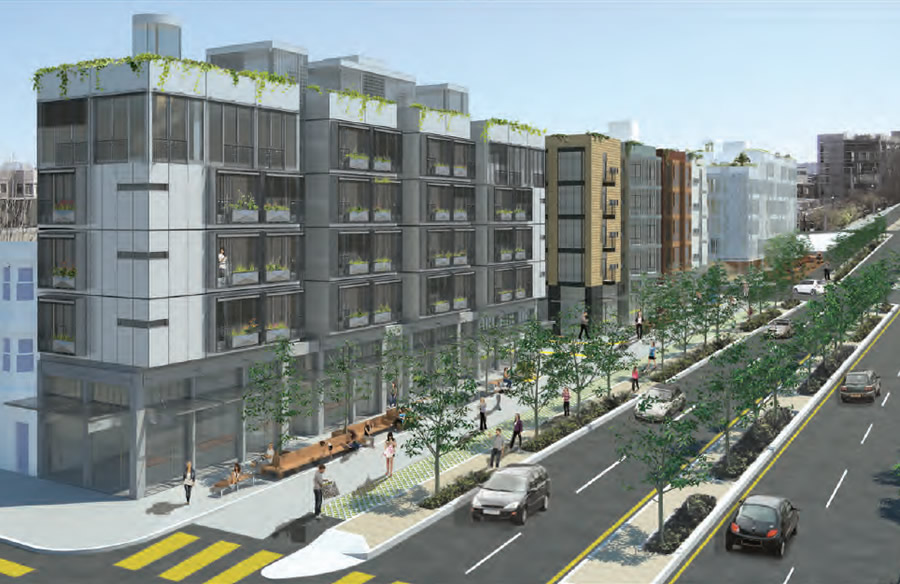 Having first revealed the plans for 26 modern condos and a beer hall concept to rise on former Central Freeway Parcel T along Octavia Boulevard, we now turn our attention to the plans for 56 rental units – including 34 micro-units – and 8 micro retail spaces to rise on the adjacent Parcels R and S in the heart of Hayes Valley.
With the development rights having been awarded by the city, Build Inc. plans to build two five-story buildings upon the skinny parcels between Oak and Page, parcels which are currently planted as community gardens.
Dubbed "The Karl," the proposed building to rise on Parcel R between Oak and Lily would consist of 34 self-contained "CoLiving" suites averaging 174 square feet apiece, 273 square feet for the 6 handicap accessible units, over four individual micro retail spaces along the street.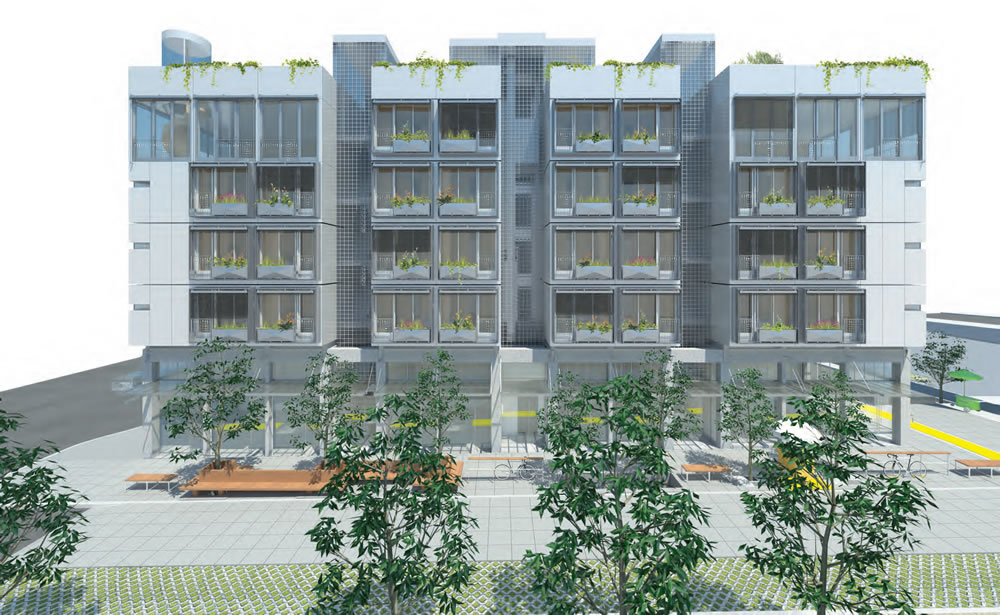 The design for the building includes additional shared living, dining and kitchen areas on the top floor.  Classified as "Group Housing," the development would not be subject to Below Market Rate (BMR) regulations.
Dubbed "The Neapolitan," the proposed building to rise on the former Central Freeway Parcel S between Lily and Page would consist of 22 traditional apartments: ten two-bedrooms averaging around 600 square feet and twelve 271-square foot studios.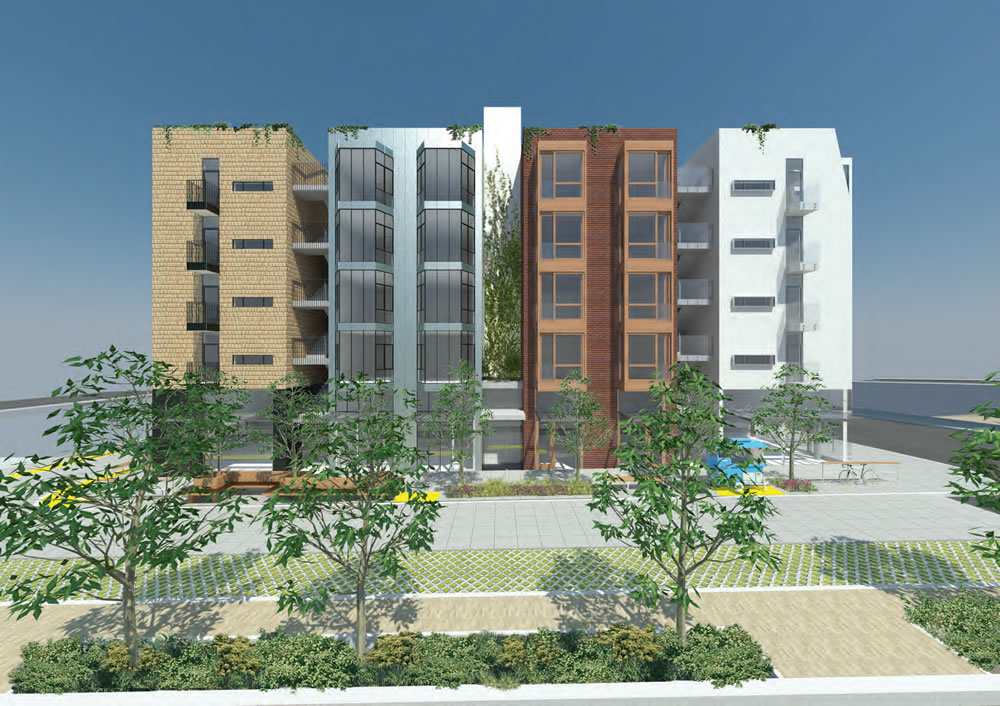 Designed by Macy Architecture, the Neapolitan building's mass is broken down into four 24-foot wide segments, creating four "Mini-Buildings," each finished in different materials and styles with four micro-retail spaces at their base.
As conceived, the existing community gardens on Parcel R & S would be relocated to the roofs of the two new buildings.  And in terms of timing, they're shooting for occupancy by the end of 2017.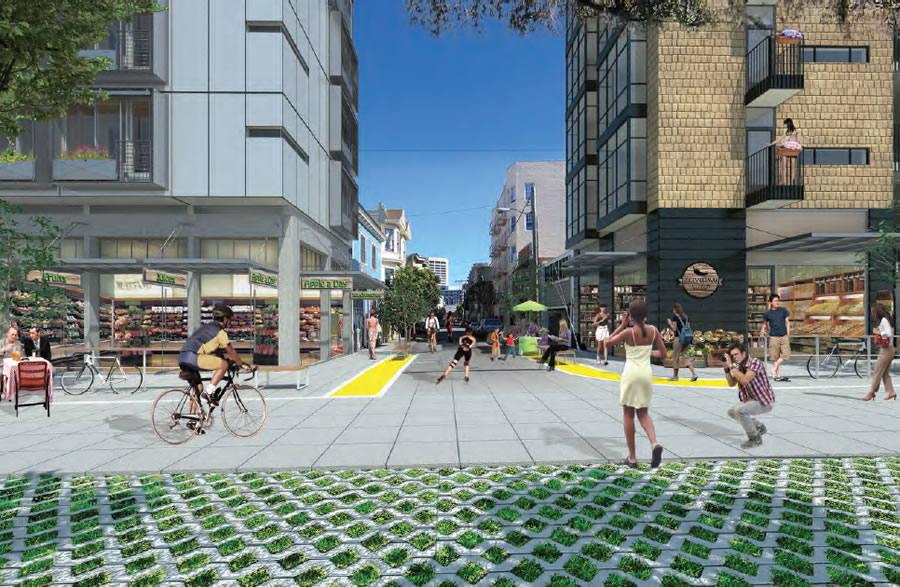 UPDATE:  From the developers with respect to the existing access lane that fronts the two parcels:
We propose a targeted transformation of the Side Access Lane along Parcels R & S into a "tabled", traffic-calming Shared Public Way that is friendly to pedestrians, bicyclists and slow-moving motorists alike.

This is accomplished by shifting the car parking over to the west side of the roadway. The thin asphalt top layer is removed – while retaining the underlying structural base – and replaced by concrete paving scored to match the adjacent sidewalks. This new, thicker surface aligns with the level of the existing curb and sidewalk. It extends 11 feet to the west (sloping slightly to drain) and terminates in a 7-foot wide parking lane distinguished by permeable pavers (for storm water infiltration.)

Since it is not always necessary for thru-traffic access, the portion of the new Shared Public Way adjacent to Parcel R can, on occasion, be temporarily closed off for public events.
By shifting the parking to the west side of the street, driver-side door conflicts with bicyclists would be eliminated and the parking lane would also help buffer the Public Way from the high-speed boulevard traffic on Octavia.