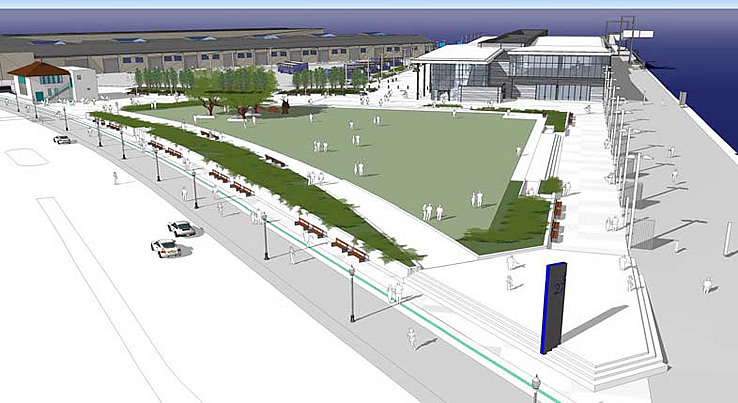 The construction of San Francisco's James R. Herman Cruise Ship Terminal at Pier 27 is scheduled to be finished in August and the Crown Princess is slated to be the first ship to berth at the new terminal on September 18.
On the agenda for Port of San Francisco this afternoon, a public hearing to approve the Port's plans to allow non-cruise ship activities – such as trade shows and private parties – to be held at Pier 27 when no cruise ships are in town.  Also proposed, parking for tourists within the terminal's ground transportation area and parking lot.
A projected 84 cruise ships will call on San Francisco in 2015, leaving plenty of terminal downtime for other uses.  And without an agreement in place to "share" Pier 27 for non-cruise related activities, the new terminal will operate at a projected loss of over $2.2 million a year.  The Port has already booked the pier for at least five private events in late 2014, including events for Salesforce and LinkedIn.
In order to use Pier 27 for tourist parking, the Bay Conservation and Development Commission (BCDC) will need to approve an amendment as the permit for the pier only allows for the parking area to be used for cruise related activities.  Said amendment has yet to be approved.
Even with 52 events a year at $46,000 apiece, the Port's base case scenario, the Port is forecasting a loss of over $400,000 a year for the Pier 27 if tourist parking isn't allowed.  And even with the tourist parking in place, should it be approved, the Port will lose $194,000 a year on Pier 27 under its project base case.