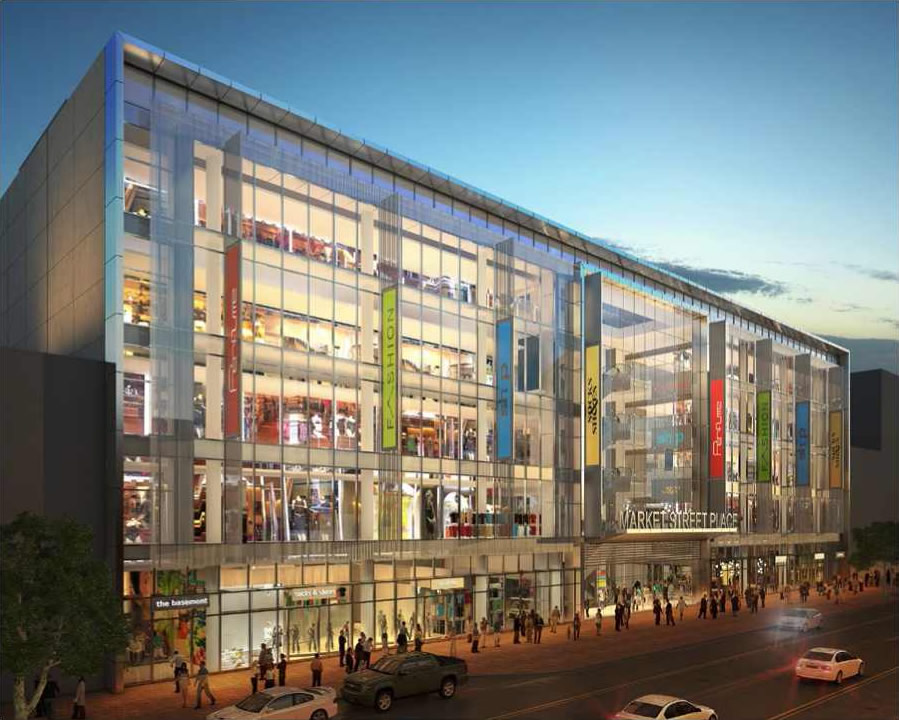 First approved for development in 2010 but then lost to foreclosure in 2011, the mid-market retail development originally known as CityPlace but since dubbed "Market Street Place" will start construction in September.
Market Street Place will be a six-level, urban retail redevelopment project featuring an exterior façade of translucent glass that will serve as a window into the shopping experience inside. A creation by Gensler's San Francisco architectural team, the design provides for enhanced streetscape improvements around the building, prominent street presence for retailers and a large, open floor plan with clear heights up to 17 feet on the ground floor. The planned interior finishes include natural stone, glass wall systems, stainless steel accent finishes, progressive lighting, and creative art installations to foster a welcoming environment for the diverse community.
While JCPenny had originally signed-on to be the developments anchor tenant they were subsequently dropped and Nordstrom Rack was unsuccessfully chased.  Cypress Equities is now moving ahead without any tenants in place and "looking to be more upscale."
In addition to fashion, the building has drawn interest from grocery, sporting goods and furniture stores as well as entertainment use. The fourth and fifth floors – the top story will have 18-foot ceiling, balconies and views – could work as a combination of food and entertainment, [Cypress CEO, Chris Maguire] said, and a group that builds bowling alleys has looked at the plans, as has a cinema developer.

Another possibility is a gourmet food hall similar to Chelsea Market or Eataly in New York.
Emphasis ours.
Construction of the 250,000 square foot development to rise on the south side of Market Street between Fifth and Sixth streets will take around two years.  The site has been a dirt lot since early 2013.