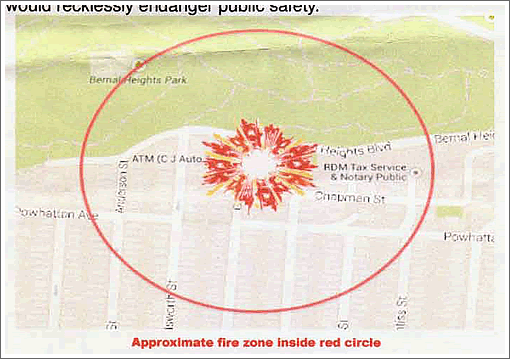 From the "BERNAL PUBLIC SAFETY ALERT!" flyer making the rounds, with a "PROPOSED DEVELOPMENT PUTS LUXURY HOUSING AHEAD OF PUBLIC SAFETY" sub-header and the not so subtle graphic above, all emphasis as printed:
"If you live, walk, run, garden, ride your bike, push your stroller, or fly your kite around Bernal Heights, you may have entered the 600-foot Radius Blast/Fire Zone of a proposed Bernal southeast slope development of two luxury homes below the Community Garden. A 26-inch PG&E gas pipeline runs through it – the same type that blew up in San Bruno. Many residents think this development – which benefits from a questionable exemption of SF street safety grading codes – would recklessly endanger public safety."
The proposed development and plan will be presented at the East Slope Design Review Board meeting on Wednesday, April 9 at 7PM.