With the total number of annual attendees at events held at the Moscone Center's North and South buildings – San Francisco's primary convention, exhibition, and meeting facility – having dropped 20 percent since 2010, a proposed expansion of the Center's North and South buildings by 20 percent is making its way through Planning.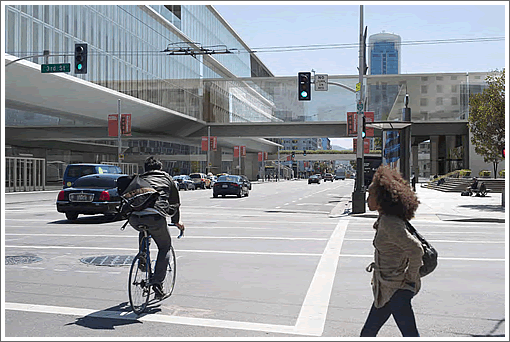 The plans, timing, and another rendering of the proposed expansion project for San Francisco's Moscone Center on Howard between Third and Fourth Streets:
The proposed Moscone Center Expansion Project would increase the gross square footage of the Moscone Center facility by about 20 percent, from approximately 1.2 million square feet to 1.5 million square feet through the expansion, as well as through the renovation and repurposing of the existing facility.

The project would result in an approximately 42 percent increase in functional space, to about 888,300 square feet from 625,600 square feet, as well as reconfigured support space.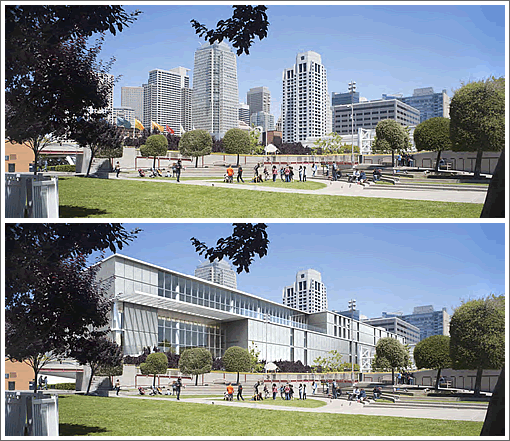 New construction would be primarily above grade both north and south of Howard Street in buildings up to approximately 95 feet tall. At completion, the expanded Moscone North structure would be approximately 54 feet in height and the Moscone South structure would be approximately 95 feet in height.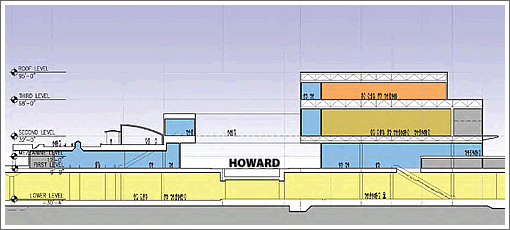 Additional space would be created by excavating in two locations under Howard Street and expanding the existing below‐grade exhibition halls that connect the Moscone North and South buildings. The proposed project would create a total of approximately 580,000 square feet of contiguous exhibition space below ground.

The proposed project would also reconfigure the existing adjacent bus pick‐up and drop off facilities and create two pedestrian bridges spanning Howard Street, which would connect Moscone North and South expansions at the second level above grade.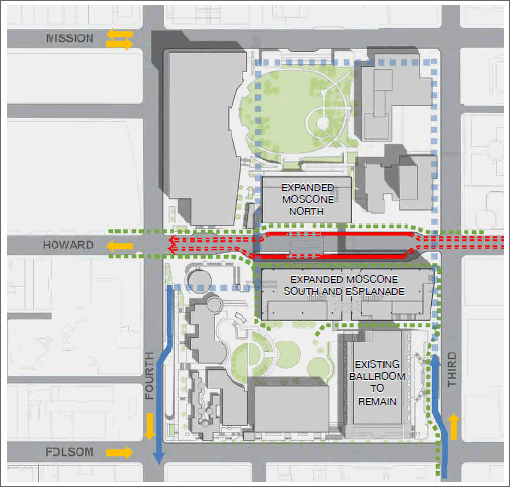 A joint project between the Moscone Expansion District, the San Francisco Tourism Improvement District Management Corporation, and the City and County of San Francisco's Convention Facilities Department, assuming the plans are approved, construction on the Moscone Center Expansion Project is slated to begin this November and be completed approximately 44 months later at an anticipated cost of $350 million.