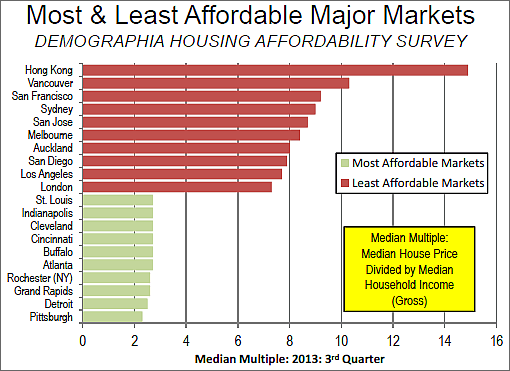 According to the 10th Annual Demographia Housing Affordability Survey of 360 housing markets worldwide, "San Francisco" is the third least affordable major metropolitan area, behind only Vancouver and Hong Kong, the least affordable market by a wide margin.
The Demographia rankings are based on "Median Multiples," median house prices divided by gross annual median household incomes. The major markets are those with populations over a million. And for the purposes of Demographia's survey, San Francisco includes Oakland as part of the greater metropolitan area.
Demographia ranked Pittsburgh as the most affordable major housing market in the word, followed by Detroit. In fact, the ten most affordable major markets were all in the United States.
Including areas with under a million in population, Honolulu, which should soon break through the one million mark, ranked as less affordable than San Francisco, as did Santa Barbara, and was the absolute least affordable metropolitan area in the United States, the third worldwide.
∙ Demographia International Housing Affordability Survey 2014 [demographia.com]